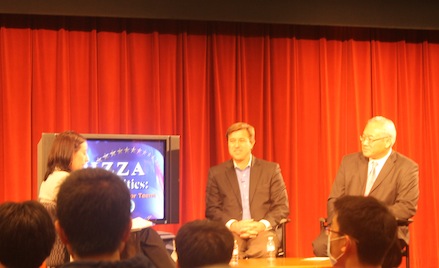 Cupertino Teen Commission, Saratoga Youth Commission host event to involve youth in politics
Pizza and Politics from El Estoque on Vimeo.
Every element necessary for the average high school party was present. Teenagers: check. Pizza: check. But this wasn't a party; this was politics.
"Pizza and Politics," which was organized jointly by the Cupertino Teen Commission and the Saratoga Youth Commission, took place on Oct. 24 from 7 to 9 p.m. The event, intended to increase youth knowledge of politics, brought together students and local politicians at the Cupertino City Hall.
[audio: https://elestoque.org/wp-content/uploads/2012/10/Chuck-Page.mp3] Saratoga Mayor Chuck Page on how kids can have an impact in politics
"We decided that this would be a great event to do for students our age, because … if you know the topics and the discussions ahead of time, then you'll be able form an opinion on your own by the time you are 18 and able to vote," said Cupertino Teen Commissioner junior Celine Mol. "We added the pizza because that would get more people to come, obviously."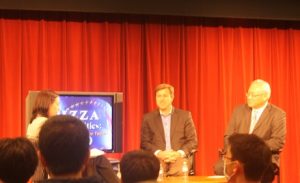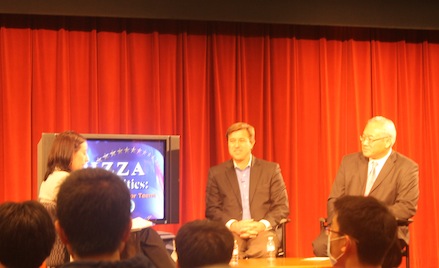 Although the debates between politicians were moderated by Saratoga City Clerk Crystal Bothelio, the majority of each conversation was audience-driven. Attendees —  high schoolers but also others ranging from middle school students to senior citizens — were able to ask their questions to legislators, which included candidates for the FUHSD Board of Trustees and California State Assembly, as well as the mayor of Saratoga and the vice mayor of Campbell.
[audio: https://elestoque.org/wp-content/uploads/2012/10/Joseph-Antonelli-Rosas.mp3] FUHSD Board of Trustees candidate Joseph Antonelli Rosas on why he is running for office
The event was divided into three portions, each featuring a different set of politicians. During the first forty minutes of the event, candidates for the FUHSD Board of Trustees — businessman Jeff Moe, network security adviser Joseph Antonelli Rosas and current Board vice president Nancy Newton — took the stage to debate how to handle various issues that affect local high schools, including the budget and environmental sustainability.
[audio: https://elestoque.org/wp-content/uploads/2012/10/Jeff-Moe.mp3] FUHSD Board of Trustees candidate Jeff Moe on how he will handle the budget [audio: https://elestoque.org/wp-content/uploads/2012/10/Nancy-Newton-1.mp3] FUHSD Board of Trustees vice president Nancy Newton on her goal for the district
"There were so many opportunities that were given to me in high school, and so much inspiration bestowed upon me," said Rosas, an alumnus of Homestead High School. "It scares me to death that students won't have the same opportunities that I did."
Then, candidates in the 28th Assembly District race — current State Assemblyman Paul Fong and challenger Chad Walsh — rose to discuss what they would do if given a chance to serve in the California State Assembly.
[audio: https://elestoque.org/wp-content/uploads/2012/10/Chad-Walsh.mp3] 28th Assembly District candidate Chad Walsh on his background
Unlike the first two portions of the event, the final forty minutes was not a debate between candidates for a political seat. Instead, Evan Low, the Democratic vice mayor of Campbell, and Chuck Page, the Republican mayor of Saratoga, represented the positions of their respective parties.
[audio: https://elestoque.org/wp-content/uploads/2012/10/Evan-Low.mp3] Campbell Vice Mayor Evan Low on why he chose to be a Democrat
The two discussed topics that appeared frequently during the presidential debates, including abortion — which Low supported wholeheartedly and Page said should remain legal but no longer receive federal funding — and taxation.
The event had an impact not only on the students who attended, but also on the politicians who spoke.
"It shows our youth can assume leadership, and they do assume leadership," Fong said of the event. "And so we need to drop the voting age to 16, we do. Because look at all these young people that can vote, that can participate."
Change made at 7:24 p.m. on Nov. 15: This article was updated to include a video.