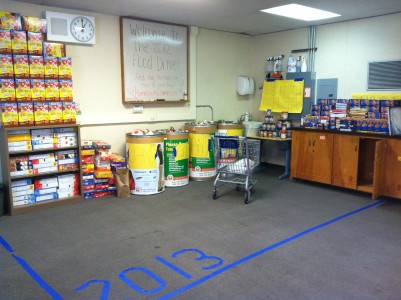 The Homecoming Food Drive officially started on Oct. 3, and several changes were made this year in order to resolve issues that occurred in previous years. For example, food may only be donated to the bins located in Portable 1 in order to prevent classes from stealing each others' donations. Additionally, a new checklist system was implemented to encourage students to donate healthier foods, meaning donations of ramen will no longer be counted for points.
According to Community commissioner senior Pooja Pandey, last year, members of 2012 and 2013 were so focused on winning Homecoming that both classes resorted to methods such as donating the cheapest food possible in order to gain the upper hand, ultimately degrading the spirit of the event.
"We realized that this serves no nutritional value, and we're not really helping the people," she said. "It just becomes class competition."
The checklist is thus based on the foods that the Second Harvest Food Bank deems most essential, such as pasta, peanut butter, cereal and canned food. This will also address the fact that many people bought cheaper food items in bulk last year, which resulted in plenty of food being donated but minimal variety.
However, in order to prevent students from ceasing to donate food after these objectives have been achieved, only two-thirds of the overall score for the Food Drive will be determined by how quickly a class can complete this checklist. The remaining will be based on the sheer amount of food donated by each class.
"People are really competitive during Homecoming," said 2015 treasurer Neil Gupta. "So no matter the changes, people are going to want to help their class."
Donations will be accepted until Oct. 10. Check back for updates regarding each class' progress until then.