GIRLS GOLF: Matadors lose to Homestead and Lynbrook 121-109-109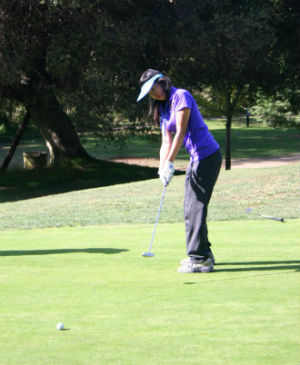 On Sept. 13, six members of the girls golf team faced off against Homestead and Lynbrook High Schools in their fifth match of the season at Cupertino's Deep Cliff Golf Course. Despite an individual win by captain senior Prianka Singh, the Matadors lost 121-109-109 as the team continued its losing streak with a league score of 0-5.
First seed Prianka Singh took a score of 35, fourth seed junior Natalie Ng shot a 42, second seed Anika Singh received a 43, third seed Shruthi Perati took a 48, sixth seed sophomore Harshitha Sriraman scored a 53 and fifth seed sophomore Valene Tjong finished with a score of 55.
Prianka Singh started out solidly, parring on the second and third holes, but shot shakily on the fourth and fifth. However, she returned to consistent form on the sixth, seventh and eighth holes and bogeyed on the ninth after hitting the water.
"My game wasn't great, but my score came out okay … the Deep Cliff course is a course where it is very forgiving," Prianka Singh said. "My putting was really off today; I guess there's just room to improve."
Anika Singh struggled with chipping throughout the game, especially after hitting a ball out of bounds and having to take a drop shot on hole five. Her final score of 43 fell short of her usual score of 40 or 41.
"For hitting a nine on two holes, I think I did pretty well," Anika Singh said. "I want to score in the high thirties later in the season."
Perati struggled during the match due to inconsistent playing, as she was on par more than usual but shot much higher than usual on others.
"There were four holes where I got in the bunker, so one of the girls joked that it was a 'beach party,'" Perati said. "But overall this season I have improved from last year. Generally, my scores are closer to par on the longer courses."
The team is still developing in its third year, especially compared to the rest of the teams in the Mount Hamilton division which have been developing a lineup of girls over many years.
The Matadors will play against Lynbrook in their sixth match of the season on Sept. 16.