PHOTO GALLERY: Swimming CCS Championships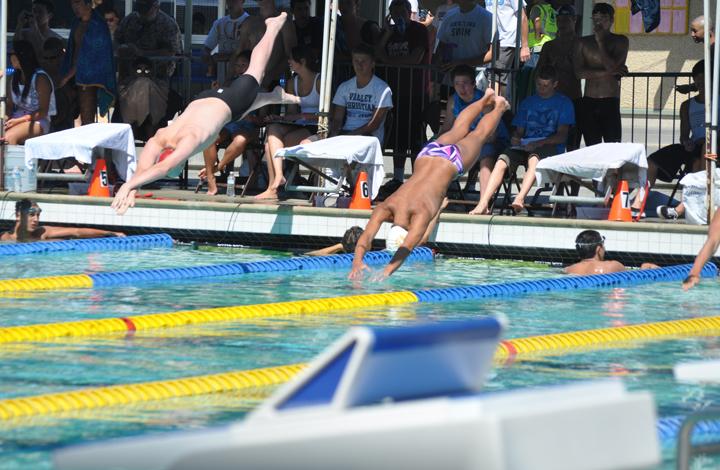 With the vibrant and warm weather, students, parents, and coaches were all the more excited for some strong competition. On May 11 and 12, MVHS Swimming sent 25 students, 11 girls and 14 boys, to the CCS Championships at the Santa Clara International Swim Center. For most of the season, the swim coaches push the swimmers to their limits to build up their strength and about a month before League Finals and CCS, they begin begin tapering in which the practices become shorter and less strenuous to save energy.
""This is a beautiful time of year. Taper is always awesome, the weather is great, things smell good, and swimmers feel good. They boys have a chance of finishing in the top four and that 400 free relay is going to be battling Bellarmine for first place," said head swim coach Don Vierra.
After a few significant changes made to the boys and girls swimming and diving program, the boys were able to finish 8th place overall and the girls 12th schools. The boys 400 freestyle relay included juniors Kevin Su and Evan Li, senior Michael Leung, and sophomore Colin Hong. They were on their way to breaking a CCS record and first place in the event when they were disqualified after Leung was thought to have entered the water before the other swimmer touched the wall.
Even with dashed hopes, three other underclassmen, sophomore Carly Reid, freshmen Sayeh Faridnia and Christina Cheng, competed impressively. Reid continued her successful season by placing second in the 50 yard freestyle with a 23.14, which qualified her for AAA (All American Automatic) and fifth in the 100 yard freestyle at 51.12. Those who are considered AAA swimmers can apply to be on the Scholastic All-American Team sponsored by USA Swimming. Freshmen Sayeh Faridnia and Christina Cheng both experienced their first championships and Faridnia was able to make 16th place to move on to finals, where she got 1:56.48. Still Bellarmine College Prep extended their dominance in boys swimming by placing first overall while the girls placed 12th overall.