Olympic psychologist holds seminar for MVHS track team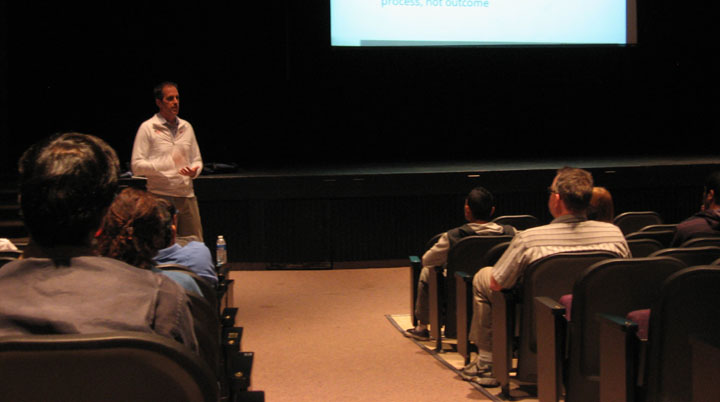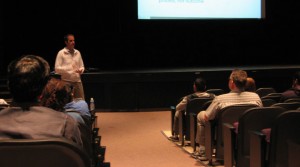 On May 1 at 6:30 p.m., MVHS track athletes and parents trickled into the auditorium, some students still wearing shorts and running shoes. With the auditorium about half full, Steve Portenga, a professional sports psychologist, began his seminar on the psychology of sports performance.
In a two-hour long Powerpoint presentation, Portenga spoke to the athletes regarding his philosophy — plan, prepare, perform — in order to succeed in track. Portenga, who is currently the lead sports psychologist for USA's Olympic track team, emphasized the importance of personal records and a mentality of improvement for high school athletes.
"The athletes who perform the best at the Olympics are the ones who learned this in high school," Portenga said. "We start with youth athletes as much as we can."
Portenga was invited by MVHS track coach Kirk Flatow, who has regularly arranged for other speakers and coaches, including current triple jump and long jump coach Olympian Erica McClain, to visit the team as well. This was also the first time Portenga has given a seminar to a high school, as he usually works with professional athletes only.
"I just asked [Portenga], 'Hey, why don't you come to my high school?'" Flatow said. "[Portenga] teaches the same message that I do. My goal is to share as much knowledge [as I can] with the kids [at MVHS] and in this community in general."
Students also had the opportunity to talk with Portenga after the seminar and were able to pick up tips to improve their personal performance. According to track athlete senior Surafael Yared, speakers like Portenga help the track team improve not only athletically but also mentally.
"I feel we're blessed that we have a coach who's so committed to us," Yared said. "Exposure [to people like Portenga] is important, but not a lot of high school athletes have these kinds of opportunities … this is definitely something that [Flatow] tries to help us with."