Blue Pearl to be held April 13
The Roaring Twenties will be making a comeback on Friday, April 13, during the third annual Blue Pearl dance. Hosted by the Student Life commission, the dance is a 1920s-themed night of jazz music, swing dancing and dinner.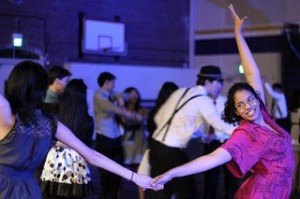 Approximately 250 students attended the dance in 2011, but sales have been lagging this year. On April 11, according to Student Life commissioner junior Sanjeev Ranga, only 34 tickets had been sold, but by April 12, the commission pulled that number up to 100, the minimum number of tickets that had to be sold to keep the event from being cancelled.
"I think one big issue is that since [the dance] is around the same time that [Junior Prom bids] are being sold, people didn't think of going to both," Ranga said. In 2011, the dance was held earlier in the year, on March 25.
Attendees will be served a three course meal from Italian restaurant Buca di Beppo, after which swing and jive dancing lessons will be provided by a professional teacher. Attire is either 1920s-themed or semi-formal, and photos that will be professionally printed will be taken in the Leadership room.
"[The decision to hold the dance again] will be all up to next year's [Student Life commission]," Ranga said. "[It will be based on] if they think people will want to go, or if it will be like [this year] again."
The dance will be held from 7 p.m. to 10 p.m. in the gym. Tickets can be bought for $10 in the Rally Court during lunch this week and are $12 at the door. All proceeds benefit the American Heart Association.