Wrestling Revolution
Amrutha Dorai
March 12, 2012
The match was almost over by the time junior Matt Merkhofer was up. He was the last wrestler left waiting in the wings, and it was late in the meet. The audience was restless, fidgety.He shook hands with his opponent, and, at the referee's whistle, launched into his offense. Merkhofer jabbed, fell, stood, fell, and, this time, stayed down. It looked like a loss for sure. But then — in a flash, almost as though it did not happen at all — Merkhofer pulled one final trick out of his hat. With the help of some fancy footwork and a burst of strength, Merkhofer flipped his opponent a full 360 degrees, leaving the adversary flat on the ground.A full 360 degrees. A full circle.A full revolution.Merkhofer's performance at the Jan. 19 league match against Lynbrook High School mirrors the team's performance this season. MVHS wrestling has, in a sense, undergone a revolution from last year to this one, purging the old in favor of the new: new coaches, new leagues, and, most of all, newfound success.This season, wrestling has experienced indisputable success, winning every dual meet and ending with a perfect 6-0 record. Not just winning, but dominating, with each of these matches being won by a margin of at least 20 points — often much more. Last year's season record, by contrast, was an even 3-3. In addition, eleven wrestlers qualified for CCS, a massive jump in comparison with the three who did so last year. Even with the change of leagues, that is still impressive."I remember the first day after I talked to the team and their parents, I told them 'expect to win,' but I didn't really expect to win as often and by as large a margin as we have," head coach Kevin Klemm said. "[It's] been a pleasant surprise how many guys have won, and how deep our team is."
These statistics make sense when you see the team in action.
There was the Merkhofer incident, of course. During a similar episode, freshman varsity member Max McCann displayed the same brand of grit during the Dec. 10 Webber Lawson Memorial Tournament, where he placed third in his weight class by using his solid understanding of basic techniques to his advantage, prompting impressed cheers from his teammates. And during MVHS' senior night match against Homestead, senior Michael Whittaker pinned his opponent in a mere 32 seconds.
Although not all matches have always been this spectacular, the wrestlers' overall progress is evident. Some attribute this change to the new coaches, Klemm and assistant coach Ian Bork, who between the two of them have about thirty years of coaching experience. Their philosophy focuses on the players, aiming to strengthen them as better athletes.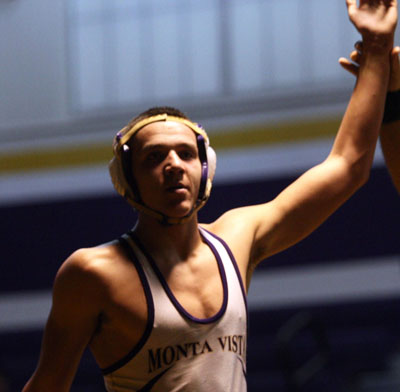 "Our new coaches are a lot more positive, a lot more informative, a lot more understanding, a lot more patient, a lot more experienced," Whittaker said.
Last season's head coach, Nolan Verga, moved to coach at Los Gatos High School earlier this year. According to some veteran players, the difference is due not only to Klemm and Bork's coaching style, but also due to Verga's harsher training philosophy.
"Verga was more negative. Like, he enforced punishments," senior Philip Tsai said. "Klemm and Bork inspire you more and make you believe, not control you through fear."
After Verga left, there was, according to sophomore wrestler Ashwin Madavan's father, Nateri Madavan, an interim period where it appeared as though the team would not be able to find a new coach and MVHS would not be able to participate in the wrestling season. But then, just as everything seemed to be going wrong, Klemm and Bork appeared.
After a round at the MVHS Senior Night match, sophomore Faris Karaborni acknowledges his triumph over his Homestead opponent. Karaborni's success helped propel the team towards victory, bringing the season record to 6-0. Photo by Kevin Tsukii.
The new coaches have implemented an intense training strategy that involves weight lifting, running, drills and "conditioning in a can" quarter mile sprints that send the entire body into shock. The team usually runs these laps, which are designed to build endurance, on Tuesday mornings, after which they have an eight-day period to recover.
"When we approached them with things to change, they not only embraced them, they integrated them into their style immediately from day one," Klemm said. "And we've been able to throw new technique at them as the season's gone on …. These guys keep adding to their arsenal."
This approach appears to be working, given the positive results.
"We just want to get better every single day," Bork said. "And I feel like we did get better every single day."
But the level of success the team has had indicates more at work here than just better coaching. Part of this is due to this season, MVHS is competing in a lower league than they did last year. In the past, the wrestling team had been part of the De Anza league; however, this year, they moved down to the El Camino league. League changes are based on the previous season's performance, with the results of only non-senior players are taken into consideration. The loss of key class of 2011 wrestlers such as Andrew Pappas and Adrian Garcia detracted from MVHS' total points, causing the shift to the El Camino league this year. This move resulted in the huge margins — 60-9 against Lynbrook, 63-6 against Santa Clara — of victory.
Given wrestling's extremely solid performance this season, Klemm is expecting that the team will move back on up to the De Anza League — changing the status quo yet again.
"We [will] lose three good seniors [this year], so it's gonna hurt us a little bit," Klemm said, "[but] our dual meet performance and [the SCVAL finals results] should solidify us moving up."
Just another revolution just waiting to happen.