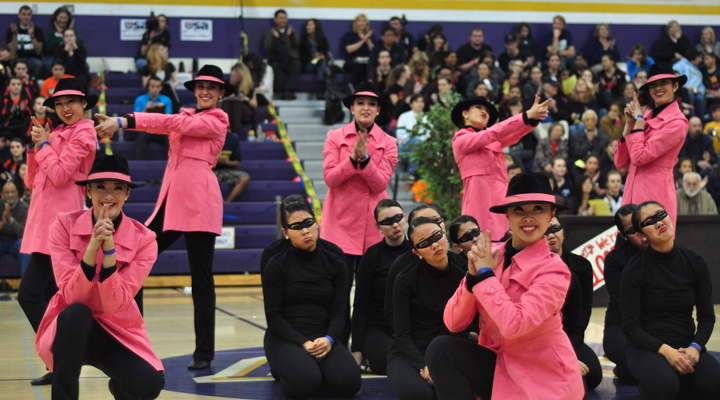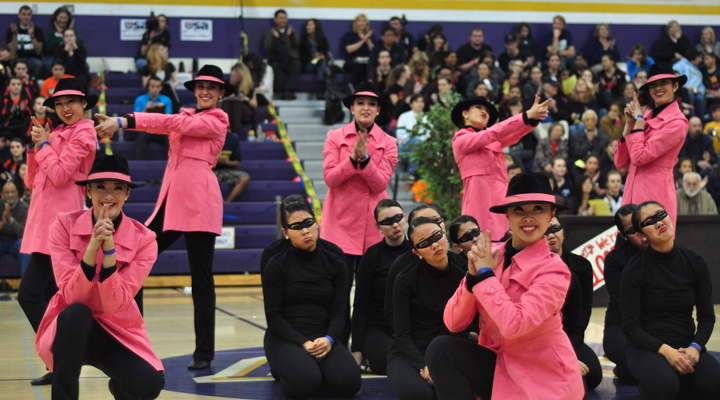 On Feb. 11, the Marquesas dance team placed first in Small Lyrical and Kick, second in Large and Medium and fourth in Character at the Norcal State Championships, a regional competition and a national championship qualifier held at MVHS. The competition included dance teams from all over California. In addition to the team routines, officers senior Teresa Li and juniors Lyan Cogan and Rheanna Ganapathy also performed solos, with Li placing fourth in finals. The team performed well, partly due to the familiar surroundings."It's more fun here because we have our friends here to support us and formations are much easier since we practice in the gym," officer senior Camille Mol said. "The vibe here is so much different because this is our home and we love it here."
The team's routines included songs that were upbeat and sassy to slower, more lyrical songs, to a routine inspired by "The Pink Panther." Throughout the routines, the team demonstrated their technical proficiency and showmanship, two key aspects of the competition, with high kicks, pirouettes, and bright, energetic smiles.
"[I guess the important thing is] looking at the judges," sophomore Kitty Liu said, "and making sure that everything is clean and staying on count, and being aware of everyone else around you."
In between routines, the team used the time to change and rehearse each routine one last time before performing it in front of judges. Dance coach Hilary Maxwell spoke to the team as they sat focusing intently on their performance ahead. Even though they faced tough opponents such as Valencia High School, a five-time national champion, the team was not distracted by the pressure.
"[It's] not necessarily pressure [to win]," Maxwell said. "Maybe [it could be] pressure to keep the team pumped up, keep up energy, make sure everyone is doing well and feeling good."
Despite the success, the team is not planning to rest on its laurels. For them, the next step is to keep progressing. One expectation is that they will continue to improve their technique.
"Our team, when we get really excited, we forget about the technique behind [the counts]," Mol said. " But definitely our showmanship and our energy on the floor has been consistent all season."