La Pluma's first Coffee House a success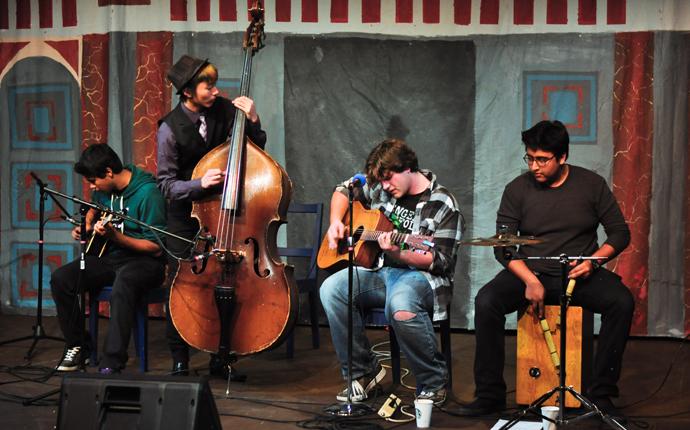 For five dollars, you could have stepped into MVHS's first-ever Coffee House, hosted by student literary magazine La Pluma. You would have seen the bagels and cakes, generously donated by Noah's Bakery and Sweet Passion's Bakery, respectively, laid out on a long table pushed against a side wall. You would have seen the two large gallon jugs of Starbucks coffee, too.
But let's cut to the chase: you wouldn't be there for the endless quantity of food.
You'd be there for the live music.
It was the music that made La Pluma's Coffee House a success. Punctuated by jokes from senior Sokena Zaidi, the organizer and emcee of the event, the event was similar to a cozy, electric-guitar-free version of Battle of the Bands. The packed Black Box, filled with chairs arranged around blue table-clothed boxes (or stools), gave a more rustic and intimate feel than that of a rock concert, as did the venue's small stage.
Though the music was great, the acts were generally the same. Singers with great voices were accompanied, for the most part, by either an acoustic guitar or an electric keyboard. Sometimes the songs were originals; most were covers of well-known songs. Such was the case of juniors Cathy Ang and Eric Liu's cover of "The One That Got Away," an entertaining act with spot-on vocals over an acoustic guitar.
Of course, there were times when the "performance norm" of the Coffee House was broken. The sixth act of the night, senior Ian Wolf Runner, darkened the generally upbeat and festive atmosphere by playing a grim song of his own, titled "Nails in Her Gut," that could only be categorized as death or goth rock. It was actually a backup song for Wolf Runner at first, until senior Sokena Zaidi and Dean of Students Michael Hicks deemed his original song as too graphic for the zero tolerance policy and asked Wolf Runner not to play it.
La Pluma's Coffee House also brought back former MVHS students, such as now-Lynbrook senior Annie Ho, who smoothly traded off vocals with MVHS senior Jeremy Irvin in "Five O'clock In the Morning," and senior Shanthi Guruswamy — another ex-Monta Vista student who now attends Venture School in San Ramon — harmonizing perfectly with MVHS senior Clara Takahashi during a cover of Mumford and Sons' "The Cave."
One of the most powerful performances during the show came from senior Hemanth Kini, the stand-in lead singer of The French and Indian War. Kini, who usually only sings backup vocals in the band, surprised the crowd by giving the them goose bumps during "If I Had a Gun," by Noel Gallagher's Flying Birds. No one had expected his crooning in between the verses to carry so much emotional power.
But the surprise act of the night was that of Saratoga High School senior Vivian Hsu, who Zaidi had invited after discovering her at an earlier Coffee House hosted by the Saratoga Youth Commission. With an unexpected harp arrangement of Ludovico Einaudi's "Nuvole Bianche," she left the audience in a state of wonder, as her fingers gracefully plucked each spring, at times gently and peacefully while at others with a booming, fiery passion. The music caused everyone in the Black Box to lean forward in their chairs, listening attentively, not speaking to nearby friends or touching the bagels in their plates. Just Hsu's performance of "Nuvole Bianche" alone was worth the five dollars entrance fee to the Coffee House.
But there was more — a lot more. A total of 15 acts performing for roughly two and a half hours, to be precise. Not to mention a lively atmosphere for socializing with friends, and, of course, the food.
With that in mind, MVHS's first Coffee House was a resounding success. Let's hope there are more events similar to the Coffee House in the future, because MVHS could use more nights like these.