College Night not representative of student expectations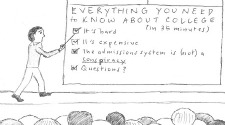 Smitha Gundavajhala
January 23, 2012
The College Night for juniors was somewhat of a disappointment.
The night consisted of three sessions: one for UC's and private colleges (easily the most attended), one for out-of-state public colleges, and one for community colleges. Most of the juniors likely already suspected that it was not going to affect their plans for college, but being the academically inclined students that they are, dutifully attended to see if there was anything else to be learnt.
Indeed, there was only one thing that we learned: the colleges we want to get into are often the least welcoming. This seems obvious — the more exclusive colleges have higher standards. However, the way these colleges were represented was not consistent with their reputations.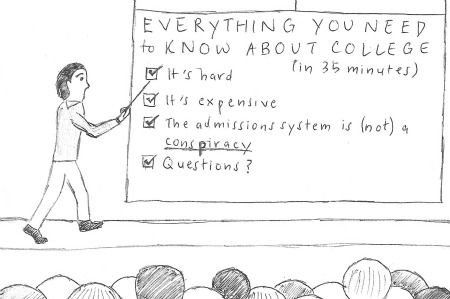 The biggest disappointment of the night was easily the session on the UC system and private colleges. It discussed nothing of either. Instead, it told us how the U.S. News list of Top 50 Colleges, and then campus tours, and then the entire college system, were all wrong. Which was all good and well, but we would have to navigate the flawed system, and the session told us nothing of how to accomplish this. It can safely be said that students expected a better showing from the colleges that were supposed to be of better quality than the others.
The session on out-of-state public colleges was slightly more informative; for one, it actually discussed admission. On the other hand, it contained a multitude of vague phrases such as, "Find a college that just feels right," and, "A lot of these colleges are in different locations."
The most informative was the session on CSUs (despite the fact that a sign on the door stated that it was to be a session on community colleges). It was efficient, straightforward and packed with useful information; the representative demonstrated a clear knowledge of what they were talking about. And yet the attendance was minuscule in comparison for this session.
The sessions were somewhat informative. Whether or not the content of the sessions was helpful, the very general, brief format did not allow students to gain much information. Truly, the best way to learn applicable information about colleges is to interact directly with admissions representatives, or at the very least, attend college-specific sessions. Very little is learned at these general sessions, and since most students are largely knowledgeable about the college process, it is best to take the sessions (or any other advice), with a grain of salt.
The main thing that juniors should take away from College Night is to consider all different avenues before discounting them in our minds. If College Night is any indication, then students should hear all sides of any issue, including college, and take advice for what it is: advice.