Three paths, one goal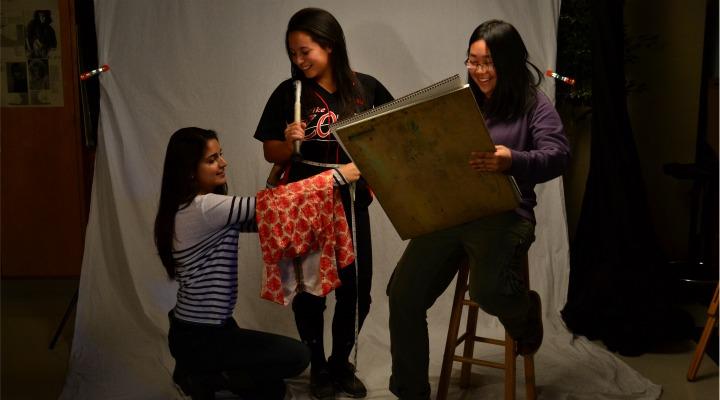 The traditional college interview is an interviewee and an admissions council. The attire for an interview consists of slacks, a button-up shirt and tie for boys and skirts or dresses for girls. Questions from the admissions council range from, "Tell me about yourself," to, "What would I find in your refrigerator right now?"
However, for a portfolio-based interview, the requirements are talent, personality and everything you've got to the table.
As college application deadlines near, three seniors prepare by steering away from typical college interviews.
Passion for fashion
For senior Danielle Chandler, fashion has always been a significant part of her life. Both of her grandmothers knew how to sew; everything they wore was hand-made. The skills they taught her, from threading a needle to weaving intricate patterns, inspired her to create her own clothing.
Since sophomore year, Chandler knew she wanted to pursue career in fashion. She spent her summer applying to fashion schools, including FIDM, Fashion in Technology (FIT), Pratt Institute and Ryder's.
In September, the FIDM administration contacted Chandler through email and requested that she visit the school to talk about her future. She brought ten of her favorite pieces of art, from fashion sketches to a jersey she designed for a cyclist. The administrator gave her an essay prompt and once Chandler had completed it, he gave her feedback for edits. After a few corrections from the administrator, Chandler arranged an official interview with the admissions counsel.
"Your portfolio is the basis of the interview," Chandler said. "You put in any artistic thing that shows your skill and talent as well as who you are."
After the admissions counsel went through her portfolio and paperwork, they notified her that she had been accepted to FIDM.
"It was such a relief," Chandler said. "After so much back and forth, it was like, 'Finally! Now I know!'"
According to the admissions counsel, she had three options: commit to FIDM, wait until spring to decide, or attend another place entirely. Chandler has not made her choice yet.
FIDM, according to Chandler, is very centered around fashion and art. Ideally, she would like to attend FIT in New York, a school that would give her the opportunity to take a more diverse range of classes or minor in one of her other interests, such as French or writing.
"I want to have to whole university experience," Chandler said. "If I went to FIDM, I think it would feel like I was attending summer classes all year round instead of actually going to school there."
As far as the interview process went, Chandler preferred the portfolio-based over the traditional ones.
"I didn't only have to talk about myself," she said. "I had to show who I am in a way that essays and transcripts couldn't."
Drawing day dreams
Since the fifth grade, senior Kelly Nakamura has wanted to go into the field of art — more specifically, illustration or animation. But since most colleges do not offer both programs, she is faced with the choice between her two passions.
Art teacher Brian Chow believes that a student should get more out off the process than of the final product when completing their portfolio.
"I think portfolios are a great service to young people," Chow said. "They show a student's humanity and skill sets and their intelligence outside of tests and GPAs."
Nakamura started applying to art schools, but the one she is seriously considering is Rhode Island School of Design. There, she wants to pursue her future in illustration rather than animation. She is still waiting to hear back from RISD.
"I'm interested to see what other artists from the East Coast have to offer, but it's kind of scary too," Nakamura said.
For her portfolio to RISD, Nakamura had to complete 16-20 pieces, two of which were specific to the school. Illustration requirements are very strict and specific and range from what type of pencil to use to the size of the fold when submitting the drawings, but RISD encourages applicants to consider their drawing submissions as exercises in experimental thinking and to value the process more than product.
For her interview, Nakamura was joined by several other interviewees who sat in the back while she talked with with the admissions counsel.
"I prefer solo interviews because public ones are just really intimidating," Nakamura said. "When you start the [interview], you just have to focus out the people and its [just] between you and the admissions person."
Nothing but game
Since first grade, senior Theresa Wong has been playing outfield in the sport that she loves: softball.
Freshman year, Wong switched to a more competitive team called Strike Zone 18 Gold, which was more focused towards college recruitment than her previous one. Up until then, softball had been about learning new skills and creating lasting friendships, rather than toward college and scholarships.
"I always knew I wanted to play softball in college ," Wong said. "I would go to camps at different schools and I would see girls on the team and how much fun they were having. It made me want to do the same thing."
During sophomore year, Wong's coach had each player on the softball team compile a list of 50 colleges and sent a letter of introduction to each one. The letters listed their accomplishments, GPA, SAT score and tournament schedules along with a link to a video of the student playing softball. If the colleges were interested, they would contact the student and come watch them play at some of their games.
At the beginning of her application process in the summer, Wong was considering colleges in the East Coast, such as Wellesley, Bowdoin and Amherst. However, once she discovered Pomona College in Claremont, she changed her mind completely.
"One school I was initially looking at was Claremont McKenna College, but across the street was Pomona and I definitely liked it a lot better," Wong said. "It [had] such a pretty campus [and] everyone there was so friendly, they would go out of their way to say hi to you."
At the end of August, Wong left the Pomona softball coach, JoAnne Ferguson, a voice message saying that she was interested in playing on her team. A few weeks later, Ferguson returned her call, telling Wong that she would like her to be part of Pomona's next softball team. On Oct. 14, Wong spent the night at Pomona shadowing a student. As Wong put it, she was in love.
Pomona College has a Division 3, or D3, program, which does not offer athletic scholarships. In turn, student athletes are not expected to practice their sport all day, which allows them the time to concentrate on their studies.
"With Pomona being a D3 school, I won't have to spend seven hours a day on the softball field, " Wong said. "It's a lot of time, you know? I want to play, but I don't want to have to sell myself to softball."
Wong submitted a supplement to her application, including videos of her in action and information on her background with softball, to Ferguson for an early read and will hear back on Dec. 15. Now, Wong prepares for her interview on Nov. 14.
Chow compares athletes to artists in the way that their performance is not seen through grades and transcripts. According to him, there is so much more outside that bubble of school and practice that that doesn't translate directly to your GPA.
"Practice and conditioning are both important aspects, but there is also teamwork and perseverance," Chow said. "The achievement of being an athlete takes a lot of work, dedication and a different kind of intelligence."