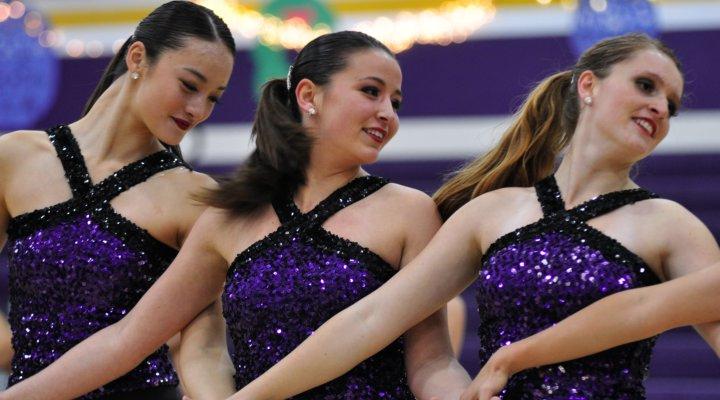 With winter wonderland decorations covering one side of the gym and music blasting to Party Rock Anthem, the Marquesas danced their way through their final number, ending their annual winter dance showcase with a bang.
"I think its right up there [compared to previous dances showcases]," coach Hilary Maxwell said. "We always put a lot of hard work into [the showcase], and so I'm really proud of them for their achievements."
On Dec. 3, the dance team performed 13 dance numbers at their annual winter showcase, including dance solos by sophomore Kelly Yen, juniors Lyan Cogan and Rheanna Ganapathy and senior Camille Mol. The dancers wowed the audience with their precise and graceful choreography, leaving the guests yearning for more.
"[The showcase] was really great. Whenever I watch [the Marquesas], I just always wish I could dance," musical guest performer junior Cathy Ang said. "I love watching them;  they look like they're having so fun and it's just a great show every time."
Throughout the hour-long showcase, the Marquesas were able to show off their many different types of dances, ranging from modern and upbeat to interpretative and jungle-like. The showcase even included a preview of one their dances planned to be performed during competition season, which begins in late January. With dances preformed in both rallies and football games, as well as a performance by the nationally ranked kick team, the Marquesas displayed their full talent — and their matador pride — as they took center stage, awing the crowd.
Guest performers included MV Bhangra, dance crew Squirtle Squad, the 2012 Powderpuff team, musical guests Ang and seniors Aaron Ho and Jacob Lui. Due to Cheer and Song team's competition the next day, they were unable to perform. Instead, the senior boys of 2012 performed their homecoming Powderpuff routine, giving the audience a chance to laugh and filling the gym with a humorous vibe. Co-caption junior Rheanna Ganapathy is hopeful that Powderpuff might become a reoccurring guest act and a tradition for future dance showcases. Audience members also agreed with positive results of Powerpuff and the new flavor they contributed.
"I thought [the 2012 Powderpuff routine] was really cool, and they did really well," junior Sanjeev Ranga said. "It was nice to have a different kind of dancing in between to spice things up a bit."
Along with this new addition, audience members also got a taste of several different types of performances. Christmas songs were implemented through the vocals of Ang, along with slower and more peaceful music from Ho and Lui. Squirtle Squad, 2012 and MV Bhangra added their own type of dancing to the showcase, making it all the more unique. With such diverse guest performers and tremendous talent from the Marquesas, the winter showcase turned out to be quite a success.
"I liked the whole thing," Ranga said. "To be honest, everyone put in so much work that each part was equally amazing. I think it all came together in a symbiotic relationship and really was amazing."