Movie: 'Hugo' captures, relies on the magic of cinema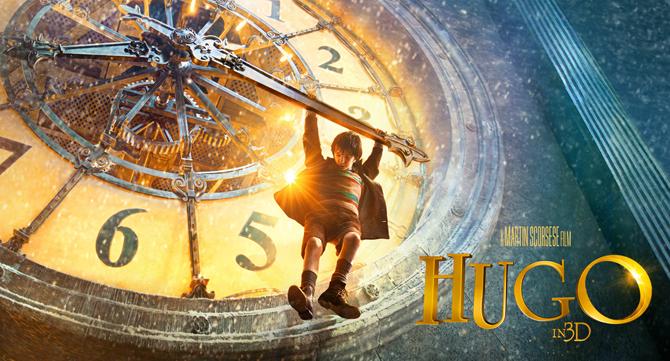 A train careening through the train station, papers swirling across a parlor, a young boy hanging dramatically from the clock tower: while the movie preview for "Hugo" suggests a world of magic and fantastic creatures, it certainly does not reveal too many secrets — if any at all. The most enticing detail might be the fact that this movie, released on Nov. 23, was directed by Academy Award-winning director Martin Scorsese, the old-school genius responsible for "The Aviator," "The Departed" and more recently, "Shutter Island."
But don't worry if you end up buying a ticket for "Hugo" primarily because of the buzz and big names — Scorsese as director, Johnny Depp as producer and James Cameron as a laudatory supporter of the movie's 3-D execution. In this case, jumping on the bandwagon is justified. The 127 minutes will be worth it.
Based on the 2007 book "The Invention of Hugo Cabret" by Brian Selznick, the movie follows Hugo Cabret (Asa Butterfield), a young boy who lives in the walls and maintains the clockwork at a Parisian train station in the 1930s. When he is not dodging the socially awkward, orphan-hunting station inspector (Sacha Baron Cohen), he tinkers with a project that his late father had been fixing — an antiquated mechanical figure, called an automaton, from the era of vaudeville magicians. He crosses paths with Isabelle (Chloë Grace Moretz), a dreamer who craves the adventure that she has only read about in books, and her godfather Papa Georges (Ben Kingsley), the owner of a toy booth at the train station — and from there, the magic begins.
The storyline itself is not so phantasmagorical. However, there is certainly an element of enchantment as Hugo and Isabelle attempt to unravel the secrets surrounding the enigmatic Georges Méliès. One of the most enthralling parts of this movie is the mystery that surrounds him, but here's a hint: moviegoers who pursue film as an academic or professional interest will probably admire the historical accuracy that accompanies the Méliès back-story.
Though rated PG and marketed as a family-friendly film, "Hugo" is undeniably slightly dark — either due to the patterns of unfulfilled happiness or sorrowful French folk music. Admittedly, this is to be expected of any movie produced by Depp and Scorsese, and probably explains the lack of children under age 12 in the audience.
"Hugo" not only marks Scorsese's foray into the world of children's movies, but also his exploration into another dimension. The film indicates further deviation from the typical, gimmicky, sometimes vertigo-inducing 3-D technique; it integrates the effects subtly and artistically. And when Cameron, the director of "Avatar," hails the effects as "absolutely the best 3-D photography that I've seen," something must be right.
Though all the better for a poignant picture, perhaps the only thing that does not quite sit right is the theme of things broken — referring to machines as well as people. Character details evoke pangs of sympathy, whether directed toward Hugo as he painfully remembers his father, or the handicapped station master as he limps as fast as he can. In the words of Papa Georges, "Happy endings only happen in the movies." Whether things will be fixed so they can "do what they're meant to do" is a secret you will have to unlock by watching the movie yourself.

This work is licensed under a Creative Commons Attribution 3.0 Unported License.