Building sets and self-confidence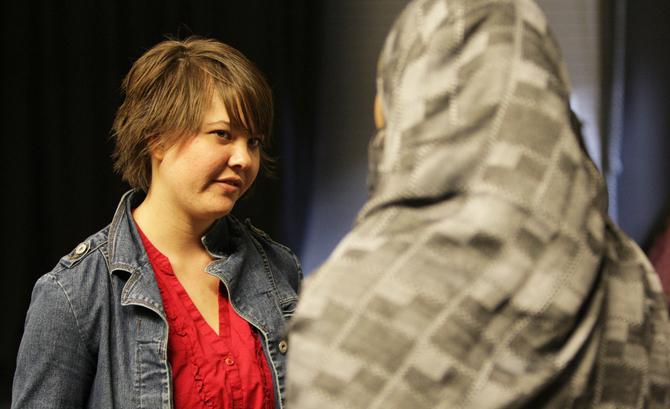 Senior Jordan Thompson sat at her computer, alternating between her Facebook and email accounts every five minutes. Finally, four hours after the 5 p.m. callbacks had ended, the cast list arrived in her inbox.
In Drama's fall 2011 production, "The Arabian Nights," Thompson was cast as Dinarzad, younger sister to protagonist Shahrazad. Thompson is no stranger to the world of theatre — in her first speaking role at age six, her face was even flaunted on a promotional banner at Vallco Shopping Center — but Dinarzad is one of the largest roles she has played to date.
It was only half a year ago during the spring 2011 production, "Pride and Prejudice," that she began to play larger roles. Compared to the shy girl who entered Beginning Drama in freshman year, the transition represents marked improvement.
"[In elementary school] I was the kid who would hang out with the yard duty because [I] had no friends … I'm also legally blind and because of that disability it made me more timid around people," Thompson said. "Drama is very [accepting]. Like people forget all the time because I'm doing things like painting sets and using [power tools like] impact drivers. I don't act blind there … [it's] just a very accepting family environment."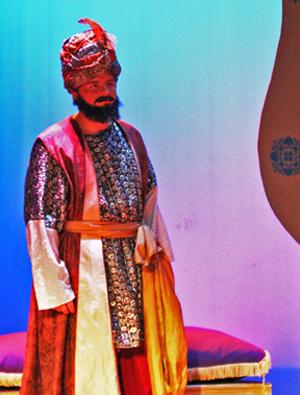 Transitioning into the spotlight
Thompson is not the first student to come out of her shell through involvement in the drama department and will probably not be the last. Over the years, Drama teacher Holly Cornelison has consistently seen students progress and transform.
"I have several students who are seniors this year … I think if anybody had seen them as freshmen, they would have thought, 'Oh, they may not stay [in Drama] … they're too scared, they're too shy,'" Cornelison said. "And now, they're definitely some of the strongest leaders in the program."
Many leadership roles within Beginning Drama are filled by teaching assistants, who were recently re-named as student tutors. Within this pool of 14 student tutors, Thompson and senior Max Sorg identify themselves as individuals who have experienced dramatic personal change through the program.
"I think I have … a hell of a lot more self confidence than I did … I'm actually deathly afraid of the stage, like it scares me to death to perform in front of people," Sorg said. "Every time you just kind of go up there and do your thing and just finish, it's a whole kind of relief process. Then I just kind of go offstage and I'm like, 'Ah, I did it again. I faced my fears.' And basically I get to face my fears every day."
Stage fright is common backstage, especially right before a full-stage production. For Thompson, the nature of performing — having to step into someone else's shoes — is what enables her to combat the nerves.
"[Actors spend] a lot of time really trying to get into that person's mind and heart, so they're not themselves," Cornelison said. "By being able to get themselves into the head of another character I think it teaches them to be … more empathetic towards others and more accepting. And also, it gives them that freedom that makes them feel safe."
Culture of connections
Cornelison emphasizes the importance of creating a safe learning space. A sense of openness is ingrained in the culture — Beginning Drama students are surrounded by student tutors, up to seven in a class, who act as mentors. As they grow to become student tutors themselves, the self-perpetuating cycle continues.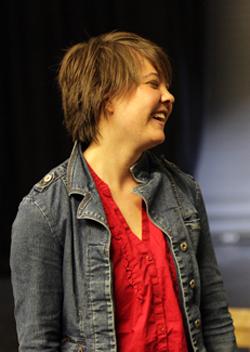 "It was a warm, friendly environment saying I could be there and not have to worry so much and I knew right then and there, this is where I belong," Sorg said. "Throughout the years it opened me up even more and it's who I've just become I guess, like I went from being very shy and timid to kind of more accepting of everybody."
In the drama realm, expectations of accepting and helping others go hand in hand. According to Thompson, the sense of community is unpolluted by put-downs. For instance, members of the drama department would not ridicule new students for their lack of experience with power tools, but would teach them the proper skills instead.
"Especially at [MVHS] where this is such a competitive school, especially with grades where you can see the person next to you … doing their best, but you have to do better than them. It's just a different atmosphere from the rest of the school," Thompson said. "We're different because of that and so that's why I feel like people think we're weird, it's just that we're so accepting of one another. And that's not normal here."
Cornelison noted that the bonds of mutual support are not solely contained within the MVHS drama department. Her colleague Kim Saunders, drama teacher at Wilcox High School, has helped the department with directing on several occasions, including "The Arabian Nights." When Saunders sent a distraught email to Cornelison about the overwhelming work load that had piled up for her school's production, Cornelison passed the message along to her students.
""I was just commending them for how well they had worked together [on 'The Arabian Nights'] and how well the whole process had gone. Their response was … 'What can we do to help [Saunders]? … We'll go there and help her,'" Cornelison said. "I was … blown away by just the generosity of the group."
From Cornelison's perspective, generosity is just one of several characteristics that she has noticed among her students. Though drama attracts students of all kinds, they all seem to adopt a better sense of self along the way.
"Students leave with a better sense of who they are," Cornelison said. "I'm not going to presume that my students are going to go off and do theater, but really, I feel like drama could be for anybody who wants to learn to be confident."

This work is licensed under a Creative Commons Attribution 3.0 Unported License.