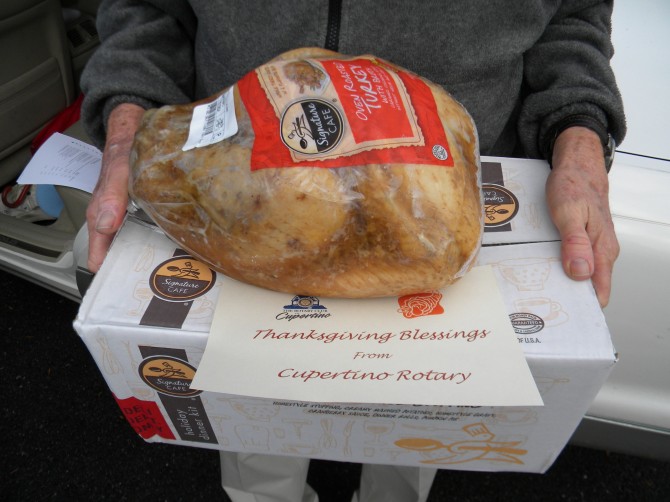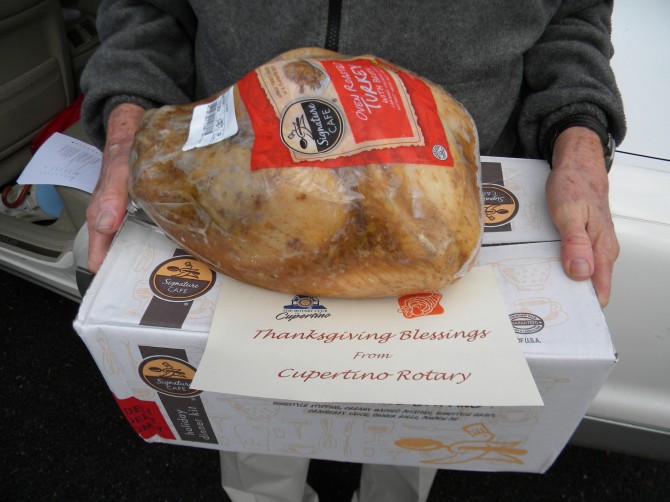 At 8:30 a.m. on Thanksgiving day, most people were still sleeping. Members of the Cupertino Rotary Club, however, were awake and ready to deliver turkeys.
The Cupertino Rotary Club organizes many community events throughout the holiday season, such as gift wrapping and Operation Snowflake. On Thanksgiving, members congregate in front of the Safeway at Loehman's plaza at 8:30 a.m. to receive turkeys and send them to needy families that cannot afford a Thanksgiving dinner. The dinners include a turkey, stuffing mashed potatoes, gravy, cranberry sauce, dinner rolls, and pumpkin pie — in short, a full traditional Thanksgiving meal that serves six to eight people.
The list of qualifying families is given to the Rotary Club by West Valley Community services, and the Rotary Club purchases turkey dinners for each of them.
"In almost all cases, [there are] kids involved," participant Henry Buffalow said. "[And] you definitely know they really appreciate the fact that we're delivering it to them."
Each family receives a packages that includes a ten-pound turkey as well as a card from the Rotary Club that reads "Thanksgiving blessings from Cupertino Rotary."
"We'll have whoever delivers it write a little note so they can personalize it," organizer Ron Ellis said.
As the chair of the event, Ellis spends six to seven hours planning all the details. But because the Rotary Club delivers turkeys every year, everything runs like a well-oiled machine. Those who deliver receive a map directing them to their assigned houses. Most volunteers are given two turkeys to deliver and are assigned families that live in close proximity to them.
"It's been done every year so we [don't] start from scratch," Ellis said.
Rotarian Steve Andrews has participated in delivering turkeys for the past seven years.
"I've lived in the community all my life … and [I've] always wanted to give something back," Andrews said. "And Rotary gives [me] the chance to do that. It's a feel-good deal for everybody."