Getting to the root of the fruit trees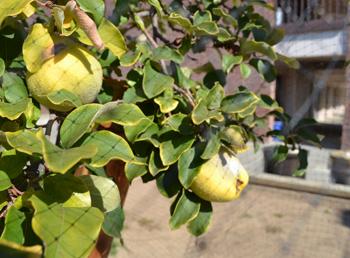 Along the pathway from the rally court to the academic quad, among petrified pieces of gum and flyaway chip bags, sharp-eyed observers might notice streaks of smashed green fruit. They did not simply fall out of student lunch boxes — they fell from the trees.
Pineapple guava trees are scattered around campus: lined up outside the library and speckled in front of the student parking lot. According to custodian Tony Sousa, who worked as groundskeeper for several years, the trees were already standing when he first joined the staff about 20 years ago.
"You have to peel them and eat them and stuff like that, they taste sweet. Almost every day I pick one or two," Sousa said. "There's different types of guava … in my country — I'm from Portugal — they have these little ones, they're a lot smaller."
Across the row of pineapple guavas outside the library, another small tree occupies a corner of dirt outside the counselor's office. Though the original decision of when and why to plant the guava trees even remains a mystery to Sousa, he can account for the origins of this one.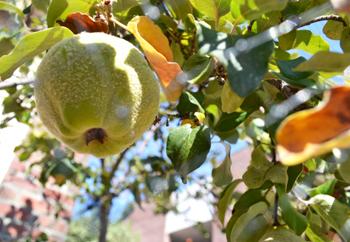 "That's a quince. I guess some kids were eating something, the seeds got behind, and when it was growing I let it grow," Sousa said. "And I started seeing these beautiful flowers on there so I just let it go. First I thought it was an apple, but it's called a quince."
By Sousa's estimation, the quince has been growing for the past 10 years. Just a few years ago, Spanish teacher Maria Coughlin noticed the little tree and has been tending to it ever since; she uses the unique fruit to prepare a traditional Spanish treat called membrillo.
"You have to boil it and you have to peel it and you have to put it in a blender and you have to put it in the oven and it looks like a jelly almost," Sousa said. "It's real hard and it's good to eat with bread and cheese … a lot of people from Portugal and Spain do stuff like that."
Other unnoticed woody perennials populate the campus, like the olive trees near the office, C building and girls locker room, or the loquat fruit tree right outside room F101 that ripens in early summer. So come June, while passing the corner of F building on your way to the student parking lot, look around. You might see the fruits yellowing among the leaves, before they fall to the same fate as the smeared pineapple guavas.

This work is licensed under a Creative Commons Attribution 3.0 Unported License.