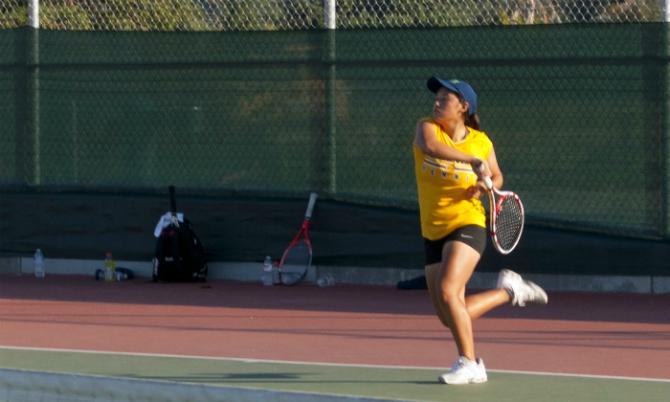 As the regular season nears its final week, there is only one team in the league that remains undefeated: MVHS.
The Matadors, (18-0, 10-0) showed again on Oct. 19 why they have not lost with a dominating 7-0 win over Lynbrook.
"Lynbrook's a good team — they're third behind us and Saratoga, and the girls played really well," head coach Gene Fortino said. "They won in straight sets, took care of business. I'm really happy, especially with Saratoga coming up next week."
Each player came out strong in their matches, with no match lasting more than two sets. Singles four freshman Angella Qian and the doubles three pair junior Tiffany Lian and freshman Nicole Stomakhin were able to win their matches in straight sets 6-0, 6-0.
The other players were also able to make quick work of their opponents, with no Viking able to win more than four games in any set.
Holding only a slim 4-3 lead in the second set, junior Jody Law was beginning to have trouble finishing off her opponent, Lynbrook junior Angela Yung. Frustration began setting in as Law was unable to complete some of her shots. However, the rest of the team, already done with their matches, came together on the adjacent court to help support Law. Eventually Law was able to seal the win with effective drop shots to take the set 6-3.
Now the season only has two league matches left. Getting to this point has not been easy, with several matches going 4-3 in favor of the Matadors this season. The key roadblock they face now to stay undefeated in league is the rematch against Saratoga High School, the defending NorCal champions. Last time, MVHS narrowly escaped on its home court 4-3, and now they will have to perform on the road.
"We'll see what happens," Fortino said. "We're playing at [Saratoga] this time, and it's always a tough place to play, but we're ready for the challenge."
The Matadors go on the road to face Saratoga Oct. 25 before concluding their league season Oct. 27 against Mountain View.