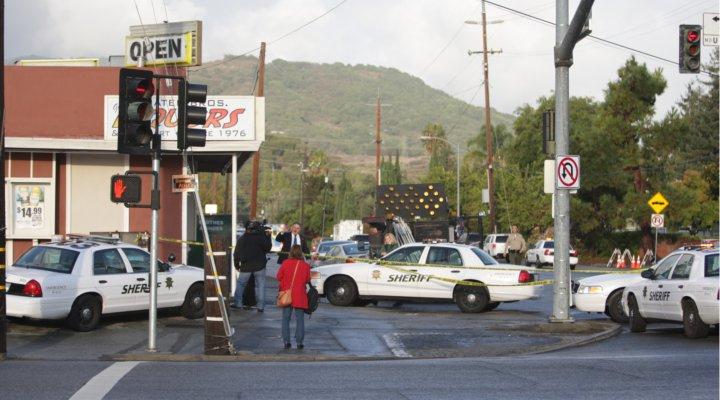 Police block off Stevens Creek avenue, while family of those in the cement factory wait for more news. Photos by Kevin Tsukii.
Updated at 9:44 a.m.
According to Mercury News, at around 7:20 a.m., Allman was fatally shot by Santa Clara County Sheriff's deputies in Sunnyvale.
Updated at 4:15 p.m.
New schedule for the rest of the week has been announced. Check out the story.
Updated at 3:46 p.m.
Check here for live police scanner.
Check twitter for the evacuation and respite center in Cupertino.
Updated at 12:02 p.m.
Latest crime report
From KRON 4 News: FUHSD is recommending students not to go to school but everyone who did go is in a safe place and will stay in that safe place until further updates are given.According to Mercury News, the gunman's car was found on 855 Homestead Road near the Pho Little Saigon restaurant. The police are conducting a door-to-door search in the nearby neighborhood.
FUHSD's emergency response
"We are on Code Blue until further notice," executive assistant to the Principal Diana Goularte said in a phone call made at 10:15 a.m.
Around 11:20 a.m. students were sent an message from Superintendent Polly Bove via phone asking them to remain at home. Bove also mentioned that students who were at school were safe and with teachers.
[audio:https://elestoque.org/wp-content/uploads/2011/10/bovemessageEDITED.mp3|titles=bovemessageEDITED]
FUHSD public information officer Bettylu Smith said that local law enforcement contacted the district this morning asking students to stay home because of police activity in the area. The emergency notification system, which includes automated phone and email messages, was activated at around 7:30 a.m. Administrators were also notified, and in turn, alerted staff members.
Homestead High School was the only high school in FUHSD that was not on a late start schedule this morning, but according to Smith, only approximately 20% of the students showed up. Those who did go to school stayed indoors with adults and staff. According to Smith, Cupertino High School is the only high school that is on lockdown. According to junior Shilpa Iyer, who attends Middle College, De Anza College is not on lockdown.
FUHSD does not yet know if students will have to make up the lost school day or what the schedules will look like tomorrow.
"We will absolutely inform [the community] via the emergency notification system of any updates we hear from local law enforcement," Smith said. "We're hopeful to soon receive an update that we have an all-clear."
CUSD's emergency response
The phone calls and emails from the notification system proved crucial in informing MVHS parents about the situation this morning.
"[FUHSD] has a great emergency response system," said a Cupertino mother who has children in MVHS and KMS, and wished to remain anonymous. "The Cupertino Union School District unfortunately wasn't as prepared."
After hearing no news from CUSD, she finally called the CUSD office at 8 a.m.
"I'm sure they were bombarded with phone calls because I was put on hold until they told me that [KMS] was open and they were accepting students. The lady was pretty frazzled when she got back to me … You could hear the phones ringing [in the background]."
An update stating that CUSD schools were open and were keeping students indoors was later posted to the district website.
The mother still chose not the send her younger son to KMS because he would have to walk to and from the school, and she would not be able to pick him up if, for some reason, the school closed.
"I know a few people who did send their kids to KMS because the police activity is happening down by Homestead and Tantau so they're not worried, but they are stay at home moms who can pick up their kids if the school closes. I don't have that flexibility," she said.
She also expressed concern over that fact that the suspect is still believed to not be under custody.
"I'm disappointed that CUSD isn't being as cautious as FUHSD," she said. "I've been keeping an eye out on live coverage and he's still at large."
Class of 2011 alumnus Nishad Joshi had just woken up at Santa Clara University at 9 a.m. when he saw several Facebook updates about the shooting.
"I called my dad right away to see if [Kennedy Middle School] was closed and if my sister had gone to school because I was worried," Joshi said.
KMS was open, and his sister had been sent to school. Joshi's father had not heard about the shooting until Joshi called, because KMS had not informed parents of the situation.
"I [attended] KMS and MVHS and I know that they have really good lockdown policies, and I trust the administration to [maintain] proper security," Joshi said. "But I was pretty surprised that they would keep the middle school open when the high school was closed."
Code Blue at MVHS
Senior Sophia Dinh had not heard of the gunman situation, and arrived on campus at around 8:45 a.m. According to her, it looked like a normal day as she passed by KMS.
"It was just the usual day, I rushed to school because usually I'm late," Dinh said. "I had no idea what was happening. The whole backside of the school wasn't blocked off … but the school campus was empty."
After Dinh found her classroom door locked, she walked around campus until about 10 a.m. when she visited the Career Center. Though the building was also locked, Career Center liaison Miriam Taba opened the door and pulled her inside.
"It was kind of scary knowing that I walked around campus for 30 minutes while there was somebody out there that was really dangerous," Dinh said. "I can't leave until [Code Blue] lockdown is over, that's when they catch the guy."
For the time being, Dinh is entertaining herself with Gmail and Pottermore while using Career Center resources for college research and studying. Taba constructed a barricade of furniture in front of the building door so Dinh could access the computers while waiting.
"Code Blue at MVHS" updated at 3:39 p.m. 
By about 11:30 a.m., Dinh was allowed to leave campus and joined several other students waiting in the office lobby for parents. According to Dinh, she called some friends at CHS and HHS but was asked to stop using her phone for "safety" purposes. During her time in the lobby, she heard news of all campus activities being cancelled, including sports practices and a weekly parenting class. She was the last student to leave the office, and arrived at home by 1:45 p.m.>
Confusion at Fremont High School
FHS junior Bridget Kitson, like several others, was confused by the situation.
"My brother [FHS freshman Sean Kitson] and I decided to stay home," Bridget said. "Apparently an email was sent out, but I haven't heard anything from the school since around 8:30 a.m. this morning."
According to the FHS website, the school is open and in session. A post on the school's website states, "A Code Blue announcement was made at the beginning of fourth block asking all students and staff to remain on campus and within buildings."
Bridget also mentioned that she has not heard much from her peers — in school or not — about the situation.
"It's all in the dark for me," Bridget said. "I've been trying to contact my friends and see what's going on, but at this point, I don't know what's going on over there."
Lockdown at Cupertino High School
CHS Principal Kami Tomberlain issued a statement saying that the school is in lockdown and will be releasing students as soon as they get the "all-clear" from the sheriff's department.
According to CHS junior Natasha Sharma, by 8 a.m. administration was telling students not to come to school. Students on campus in the morning before late start for Homecoming preparation are currently in the library, along with teachers.
"A few people were saying that they're just sitting and the lights are all off," Sharma said. "[Administration] said they could leave and parents are being called to pick them up."
____________________________________________________________________________________________________________________
Updated at 9:34 a.m. and with suspect identification details at 3:54 p.m.
At around 9 a.m., Santa Clara County Communications issued a message from the Santa Clara County Sheriff Department via phone, asking residents to stay on the lookout for the gunman suspect.
[audio:https://elestoque.org/wp-content/uploads/2011/10/shooterintheareamessage.mp3|titles=shooterintheareamessage]
The suspected shooter from the first incident at quarry has been identified as Shareef Allman, an African American man in his mid-forties and employee of the Lehigh Southwest Cement Plant.
In the Santa Clara County Communications message, he is described as a 49-year-old African American male, 5'11" and 160 pounds with black hair, brown eyes and tattoos. He was last seen wearing a large brown jacket and sweatpants, heading northbound on foot on Tantau Avenue in Sunnyvale. His car has been described as a 1999 brown Mercury Cooper with Calif. license plate number 6KTN666. The message requests that if residents see the suspect, currently identified by local news groups as Shareef Allman, they should "not approach him" and call 9-1-1.
According to Kron 4 News, another shooting took place around 8 a.m. near the intersection of Homestead Road and Tantau Avenue in Sunnyvale. A woman was shot while driving in her car; allegedly, the gunman matched descriptions of the gunman from the Lehigh quarry shooting. Police believe the two incidents to be related and have closed off parts of Sunnyvale as well.
Kron 4 News reported SWAT team members stationed in a residential area of Sunnyvale, with police cars lining several side streets on Homestead Road. CBS San Francisco News reports that police believe to have closed in on Allman at a house on Quail Street, close to the Hewlett-Packard building in Cupertino.
Victims of the original quarry shooting are being attended at Stanford University Medical Center Emergency Room and Santa Clara Valley Medical Center. Of the two patients at the Santa Clara Valley Medical Center, one has been released as of 9:15 a.m. and the other is reported in "fair" condition, according to Kron 4 News.
Scenes from Lehigh Cement Factory shooting from El Estoque on Vimeo.
According to Homestead High School senior Mallika Gargeya, students were told not to come to school around 7:25 a.m. Around 9 a.m., however, students were informed that it was okay to go to school. Once at school, students were locked down in classrooms. The school cannot release students unless their parents come. Gargeya said that around the campus, there isn't much traffic, just some police cars and another car in an accident.
____________________________________________________________________________________________________________________
FUHSD sent out automated phone calls to students on the morning of Oct. 5 asking them to stay home from school "due to police activity in the area," and promising updates when possible. Parents also received AlertNow emails with the same message.
ABC 7 News has reported that a suspected shooter is an employee of the Lehigh Southwest Cement Permanente quarry on Stevens Creek Boulevard. At least two people were killed and six others wounded. Kron4 News reports the shooting at the quarry occurred between 4 a.m. and 5 a.m. this morning. Heavy police activity was seen near the intersection of Foothill and Stevens Creek Boulevard around 5 a.m., according to El Estoque reporter Soumya Kurnool. The suspect is not believed to be in custody.
The Mercury News reports, that the shooter had been described by a witness as "a black man in his 40s" who "walked into a 4:30 a.m. safety meeting and opened fire with a handgun and a rifle." The suspect is reported to have left the scene in a dark colored car.
ABC 7 reports, "There are unconfirmed reports that that the shooter is still in the quarry making threats to continue shooting. Police have the road that leads up to the quarry blocked off and a swarm of police cars and ambulances are at the site."
According to KRON 4, Sheriff's deputies are also responding to a report of a man shooting near HP offices on Pruneridge Avenue.
Click here for a map with MVHS relative to the locations at which Allman has been sighted. More information can be found at The Mercury News and ABC 7. KRON 4 has live coverage from the scene on local channels 2 or 4.
Visit back for more information.
Correction: The first shooting took place at the Lehigh Southwest Cement Permanente Plant