Field Hockey: Team opens league season with a 1-2 loss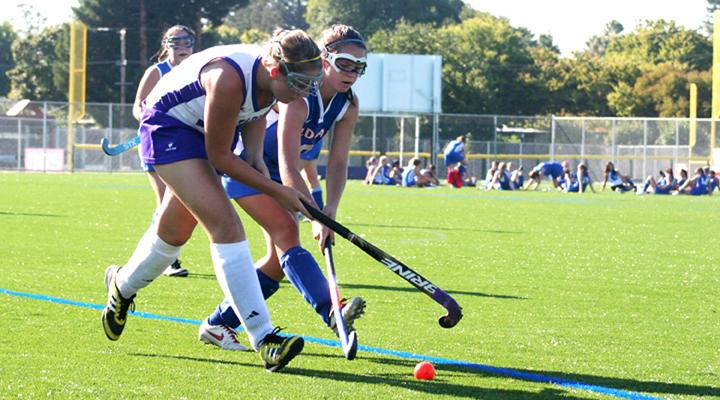 Jacob Lui
September 20, 2011
The first league game of the season started the varsity field hockey team off with two drastic differences—running with face cages and playing their home games on new turf.
The girls' varsity field hockey team opened their season with a tough game against St. Ignatius High School on Sept. 20. The game, along with all other home games due to the recent field construction on the home field, was played on Fremont High School's newly-built turf.
"It's so much more different," senior Christina Aguila said, "playing our home games on turf when we played on grass all last year."
The Matadors started off strong during the first half of the game and kept the ball on the offensive. The intensity showed when forward senior Dani Beiser made the first goal of the game with an assist from midfielder junior, Katie Byrne about 20 minutes into the game. Although the lady Mat's steady offense was apparent as they crossed the opponent's line of defense time and time again, the girls were unable to repeat the same shot as they lost the endurance from the first part of the half.
St. Ignatius stepped up during the second half with an equally strong offense, as they crossed the Matadors' defenders multiple times. Defender senior Theresa Wong prevented the ball from crossing too close to the goal with several saves and reverses, but St. Ignatius scored their first goal half way through the second half through a short corner—a result from a penalty—tying the game 1-1.
The second half was not a complete run over by the opposing team on MVHS. Even as St. Ignatius scored their second goal through an up-close normal shot taking the lead 1-2, the Matador offensive never gave in.
Forwards sophomore Sarah Im and junior Holly Matsunami, along with midfielder Byrne, gave quick crosses and give-n-go's that brought the ball right in front of the St. Ignatius goal. Beiser, Aguila and senior Justine Young showed swift plays that undermined the defensive line of St. Ignatius, also providing more opportunities for the Matadors to shoot near the goal. Many shots were taken by MVHS but none crossed into the goal during the second half. In the end, the Matadors were not able to keep up to the rare but accurate shots made by St. Ignatius, ending the game with a loss of 1-2.
Their next home game will take place against Live Oak this Thursday, Sept. 22 at Fremont High School at 3:30 PM.