Tennis: Strong start to season against St. Francis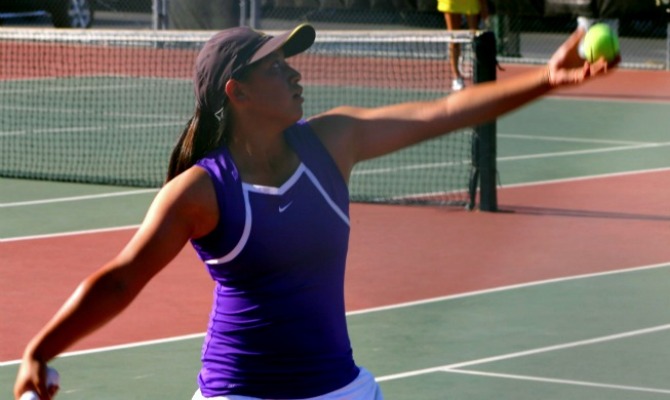 After a successful win against Burlingame on Sept. 1, the varsity girls tennis team looked to win their first home game of the season. Despite a tough outing for number one singles, junior Wendi Kong and the rest of the team played well against St. Francis to win 6-1.
"We came out ready to play," head coach Gene Fortino said. "We lost to [St. Francis] a couple of times, the last four or five years. We know that they are always tough, and they came out today, looked finessed. We got off to early leads, so that was really good."
Although Kong had trouble with her game, the rest of her teammates pulled their weight by playing strongly and beating all their opponents. Even though number one doubles sophomore Kelsey Chong and junior Ruri Kobayakawa have not played with each other within almost a year, they won their game in straight sets by playing aggressively and constantly having both players at the net.
"We started out not really knowing what to do because me and my partner [Chong] haven't played together since last year, so we started by seeing how each other plays and just kind of going point by point," Kobayakawa said.
The new freshmen Nicole Stomakhin, Angella Qian and Aiswarya Sankar also performed strongly for their first home game of the season, all winning their respective matches. Number two singles junior Jody Law had a tight match, taking it to the tiebreaker, but she was also able to win by gaining momentum in the tiebreaker to win full score 10-7.
Although both of the Matadors' games have been non-league games, they have been dominant wins for the team, winning 5-2 at Burlingame and 6-1 against St. Francis.
Featured Match:
Junior Wendi Kong vs junior Mary Closs: 0-6. 5-7
Kong had a rough start in the beginning of the match and remained unable to get back into her rhythm. Unforced errors, double faults and being forced back throughout the whole set led her to lose the first set 0-6.
In the second set, Kong was able to regroup and started strong with an early 3-0 game lead fixing the mistakes that she had in the first set. Her forehand became particularly strong, which allowed her to win the first three games. Closs was able to make a turnaround for herself in the fourth game by keeping Kong running with cross court shots. The momentum had switched constantly between the two players, but it did not favor Kong as she lost in straight sets.
Monta Vista's opens up its league season at home against Palo Alto on Sept. 13.