MVHS' excellent execution of its option offense led to 41 first-half points as the Matadors won 41-14 against the Overfelt High School Royals. Video by Dickson Tsai. Music: "RaysOfFunk" by carta licensed under CC-BY-NC 3.0.
The varsity football team controlled the game with a 41-14 win against Overfelt High School on Sep. 3 to start the season with a 1-0 record. Key plays included performances by senior quarterback Austin Burrow, and senior running backs Sam McCann and Jordan Sheade, with multiple touchdowns to lead 41-0 at halftime.
With a completely overhauled offense, the offensive line thoroughly executed its new triple option offense. This allowed the quarterback to easily exploit the opponent's defense, leaving Overfelt adrift.
"The option offense dominated everything," said Burrow, "A lot better than last year's offense, and better suited for our team."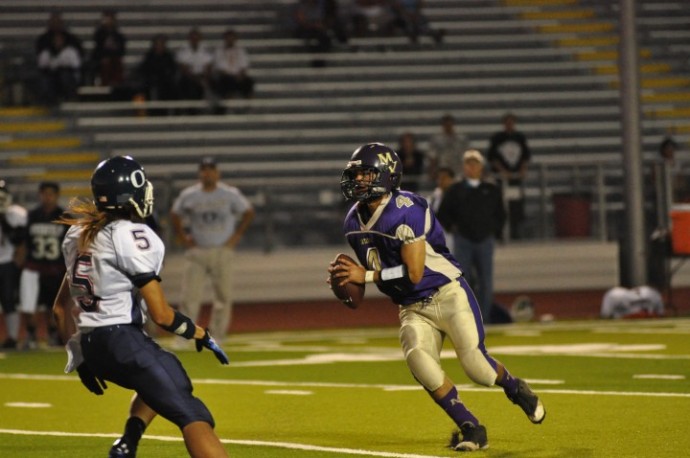 Although the Royals gained momentum in the second half and stepped up their running game, the Matadors' defense was able to hold strong for the win.
"We were let down on the second half, but we were ahead by 41 points—We had a goal in mind in terms of the number of points we wanted to get," head coach Jeff Mueller said," We thought we could score them and I thought we would do it overall in the game, but we ended up getting them all in the first half."
With CCS in their expectations, the team's second game of the season will be on Sep. 9  against Prospect High School at home.