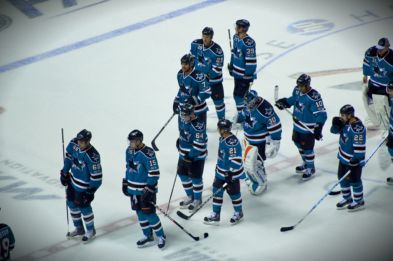 Hello, bandwagon hockey fans! It's nice to see you on Facebook

Want to know a secret? Being a Sharks fan is more than just owning a jersey, going to games and updating your Facebook status about the win when you get home.If you're like me, you've been following the Sharks for seven seasons (or more) and there has been some point in your hockey fan career where you have heard something about "Joe" Setoguchi, or have had a conversation with a middle-aged women about how dreamy Joe Thornton and Jeremy Roenick look without their helmets on, or even better, without their shirts. When right-winger Steve Bernier got traded, the only thing female bandwagon fans missed were his dreamy blue eyes. I bet they forgot his short-handed goal against the Penguins the first time Sidney Crosby came to town.
Other bandwagon fans don't even know who I'm talking about. The "fair weather fans" come to games for the fighting and violence, or more often than not, for the beer. All in all, you have heard someone say " I love hockey, I saw the highlights last night—what a great game!". At this point the only thing you can do is smack your forehead and say to yourself, "No."Before I say anything more, am I implying I don't want people to cheer for the Sharks? Absolutely not. We're the loudest stadium in the NHL, embrace it. So, go to the games, cheer, and wear your jersey, but let's not be so quick to whip out the "loyal fan" title. You don't get that title by just watching one season, or one playoff round for that matter. If you know what I'm talking about when I say the 500th goal, the 12-game streak, President's trophy, the Art Ross, the Rocket Richard, the goalie that made a Power Play goal, then you know what I'm talking about. If you smile when I say Marco Sturm, Wayne Primeau and Brad Stuart, and laugh at the nicknames "Pancakes" and "Crankshaft" then you probably have boarded the Cheechoo train and have always stuck by the team in teal, despite their disappointing playoff performances and even their regular season upsets. Defeat is all part of the game. It's all part of the emotional rollercoaster that comes with being fin-atical. We have seen the commercials over and over again—"History will be Made"—and this season it was. There is still no Stanley Cup in San Jose, but we managed to beat Detroit in the playoffs for the second year in a row, not to mention that the team in teal had one of the greatest playoff comebacks, winning after a four goal deficit in Los Angeles. And let's not forget this was our second time in the Western Conference finals back to back.
Coming from a hockey family (Yeah, I can brag that I have a great grandfather in the NHL Hall of Fame), I know how frustrating being a fan can be. Do you know how many times I've come home to an upset dad after the Sharks lost? To make a long story short, my family is embarrassing from Hawaiian print Shark shirts to house keys and Christmas tree toppers. A hockey game does not go unnoticed in the Danese household. So, of course I want people to feel and share the love of the sport that my family and I participate in. So, why cheat yourself of this experience?The fights and goals are all good. And though I'll admit I have a few hockey crushes myself (Devin Setoguchi, Torrey Mitchell, Joe Pavelski, Ryan Clowe), but the camaraderie, hard work, and dedication, as cliche as that sounds, are what make hockey really worth watching. Turn on a game during regular season. Welcome Randy and Drew into your living room. You have until September before the next season starts, so go out and learn a little bit about the boys. You won't be disappointed. If that's not something for you, then I'm sorry. I'll see you next year during the playoffs. Just don't hurt yourself when you jump off the bandwagon. And to all you true teal fans out there, stay loud. The boys can still hear us.{cc-by-nc-nd}