Gov Team raises money to counter budget cuts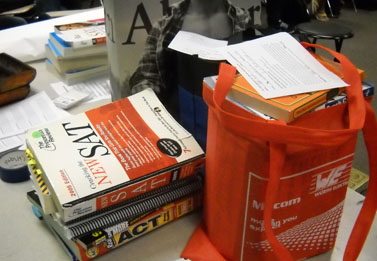 Gov Team accepts donations for community sale to fund smaller competitions, curb debt
Have old books, clothing, games, or skateboards collecting dust in the back of your closet? Gov Team will be collecting these items from students in C110 for a community sale on May 20 to raise funds for the 2011-2012 school year and to relieve the team of their debts from previous trips to Washington D.C. and Sacramento.
Due to the recent budget cuts, the largest Gov Team competition of the year, We The People, has been cut. As a result, next year's Gov Team will be attending smaller and more frequent competitions, increasing the travel costs.
"The main cost for Gov Team is traveling for trips," junior Iris Liu, president-elect of next year's Gov Team, said. "There aren't membership fees [for Gov Team], so a lot of [the money] comes out of the school's budget. We're just trying to raise money to afford these trips."
According to 2011 Gov Team president senior Kasia Gawlas, Gov Team advisor Christopher Chiang is adamant about clearing their debt of $2,000 in order to leave a clean slate for the incoming 2012 team.
"Even thought it was a pretty low cost for what we were doing, some teams might not have been able to pay. We step up and help them out," Gawlas said. "If we don't cover [all the debt], we're going to try to find other ways. That's why the community sale is only a week, so that there's still two weeks of school to figure something out if we need to."
Students who offer their items to sell are allowed to set their own prices if they choose, and 60 percent of the money for that item will go back to the student if it is sold during the actual event The remaining 40 percent will go directly to Gov Team. Donations, from which Gov Team will earn all profits, are accepted as well.
"I think [this project] is a good idea because it is an easy way [for students] to earn five or ten dollars,"junior Sokena Zaidi, member of 2012 Gov Team, said. "We have bunch of small things to get money [for funds]. It's gonna add up in the end."
However, Liu notes that by promoting this community sale via Facebook, Tumblr, and Google Chat statuses, the activity is expected to bring more than just economic benefits to Gov Team.
"I think it's not only just about raising money," Liu said. "Because it's a school event, it's getting all students to help out. It [is about getting] our name out there, and people will be more aware of Gov Team and what we do."
Check back on May 22 for results after the sale. To sign up to donate an item, visit: tinyurl.com/govteamsale. Drop off the items in C110 before Friday, May 20. The sale will be held in the Academic Court outside of room C110.