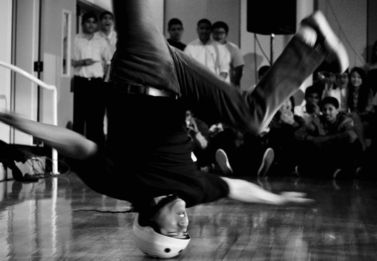 The 11th annual Cure Cancer Cafe had a "Window to the World" twist


On March 26, about 300 parents, students, and teachers enjoyed a full evening of dinner and entertainment at the Quinlan Center in the hopes of raising money for the Leukemia and Lymphoma Society. The 11th annual Cure Cancer Cafe hosted by Octagan opened the hall doors to their well-known fundraiser event, this year with a "Window to the World" twist.
Octagon officer junior George Geha is positive is was one of the "best ones yet."
"Our acts were really good; people seemed to enjoy it more than ever and they liked the change in food," Geha said.
In tradition to past Cure Cancer Cafes, the outside hall was lined with tables for silent auctions, flaunting clothes, photos, and coupons. Pictures were also taken in front of an Eiffel Tower backdrop.
As dinner began, guests were served appetizers of spring rolls, Indian style Singapore noodles, and pineapple fried rice. For vegetarians, malaysian Buddhist (mixed vegetables) was offered while non-vegetarians were served basil chicken. Dessert was rich American chocolate or vanilla cake.
According to schedule, the entertainment began with MC's sophomore Hadar Sachs and junior Neil Fernandes. They began the show with beat-boxing duo Kaazam of seniors

Kevin "Kazaam" Zhang

and Samuel Young, who gave a heart-melting performance. Comedian Dan Wilson kept the audience giggling with his jokes about Oakland and school mascots while Berekly's acapella group Artists in Resonance left the audience with a sweet melody stuck in their heads. Cancer survivor guest speaker and friend of history teacher Robyn Brushett Philadelphia Berro told her inspiring childhood story and A1 Breakdancing Crew taught everyone the basic foundational dteps of their dance style. Lastly, singing duet junior Jeremy Irvin and LHS junior Annie Ho gave a soothing end to an elegant evening.

Correction: Geha is an officer of Octagon. 3/30/11