Intercultural experiences of a foreign exchange student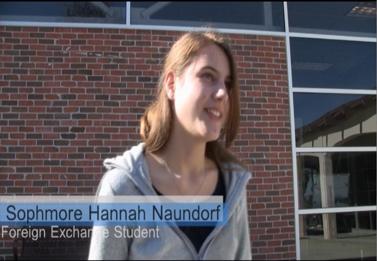 Sophomore Hannah Naundorf transitions from studying in Germany to studying at MVHS
It is the classic desire to experience something different that drives society. It compelled people to vote Barack Obama to be the first black president in American history. It drove Reese Witherspoon to trade her sorority for a law degree in "Legally Blonde". The same force brought sophomore Hannah Naundorf nearly 5900 miles from Germany to Cupertino to attend MVHS.
Staying with family friends near MVHS, Naundorf decided to spend the second semester of her sophomore year here in America after hearing stories about foreign exchange programs from her older siblings. While her elder sister went to another country on a program, she came here of her own will.
She is not working independently, though. Naundorf works with her classmates, teachers and the family she is currently staying with in order to segue smoothly from the educational system of one country to another.
Naundorf's math teacher, Jeff Payne, is excited to be teaching her.
"I think Hannah's special in my class in the sense that we speak a little bit of German to each other and my family actually hosted a German exchange student when I was in high school, so it was [kind of] neat," Payne said.
Though the other students benefit from learning about Naundorf's experiences and her life in Germany, at the end of the day, it's her journey. Though it's not always easy, she is making it through her semester-long experience one step at a time. And according to Naundorf, the journey is turning out to be a pretty good one.
"I think studying abroad is a cool opportunity to meet different people, see new things, and learn a lot about [another] country," Naundorf said."You always hear about America as a land of many opportunities. I thought it would be really great, [that] you could do a lot of stuff, and everybody [would be] really nice. And it's all true."
{cc-by-nc}