Matadors lose to the Vikings 36-49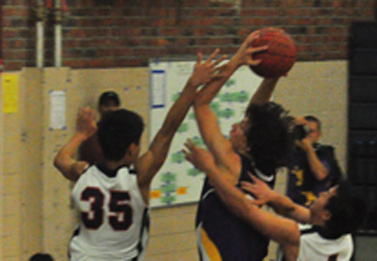 In their second game of the Lynbrook High School tournament, varsity boys basketball faces their rival school
After being defeated in last year's home game, the Matadors (2-4) tried to get the Lynbrook Vikings back on their home turf. However, they were unable to do so due to slips in their defense and their failure to convert in the key. This led to the team's eventual loss with a final score of 36-49.
On Dec. 11, the boys faced the Vikings(5-2) in their second game of the Lybrook High School tournament. This was the only time the rival teams will face off this season now that LHS has moved up from the El Camino League to the De Anza League.
The Matadors started out in the lead, ending the first quarter 11-4.
In the second quarter, a double bonus technical foul lead to four free-throw shots. This, compounded with a few too many turnovers, allowed the Vikings to take the lead and score 23 points, ending the quarter 27-16.
The Vikings kept up their lead in the third quarter by scoring 16 more points. MVHS traveled up the court several times but despite attempts, missed the basket.
With one quarter left, the Matadors rallied, pushing hard for a win. Senior Ryan Michelfelder held his own as he intercepted passes from Lynbrook and scored several baskets including a three pointer. However, 14 points was not enough to overcome the Vikings and the game ended with a final score 49-36.
"We need to get better at executing the concepts we learn in practice," varsity coach Mani Messy said. "We are doing so in spurts but basketball isn't just a 10 minute game."
Starter senior Michelfelder and fellow senior Justin Huang affirmed the coaches statment reiterating that this game was a big step forward for the team.
Huang noted one of the positives of the game, even though they lost. "We caught a lot of rebounds in this game," Huang said.