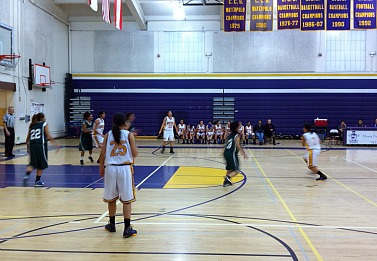 Updates on the Lady Matadors' progress in the Monta Vista Invitational

Check back for coverage of the championship game against Pioneer High School.Day 2 (Dec. 10): MVHS 61, South San Francisco 45Frustration was high for the South San Francisco supporters by the fourth quarter—their team had no answer for senior Alex Chiu.
MVHS and South San Francisco met on the second day of tournament action after winning their first round contests, and South City did well to catch up until Chiu emerged in the second half.Chiu had a commanding 32-point performance, going 10-20 shooting and a perfect 12-12 at the free throw line, as the girls varsity basketball team won their second-round game 61-45 over the South City Warriors. Chiu also recorded 15 rebounds, five steals and two blocks.Both teams did not have a clear advantage in the beginning of the game, but the Matadors managed to keep a small lead throughout the first half. It was not until the third quarter when the Lady Matadors went on a 9-0 run to open up a 10-point, 38-28 lead. The Warriors answered back with their own 10-3 run to stay close to the Matadors. South City, despite being held to a 32 percent field goal percentage, stayed close by going 5-8 from beyond the arc. It was not enough, however, to overcome their 20 turnovers.The Matadors pulled away in the fourth quarter by outscoring the Warriors 18-8, largely thr
ough their tenacious full-court press. MVHS will face Pioneer High School, which won 51-32 against Newark Memorial High School, for the tournament championship.In the losers' bracket, Saratoga High School and Willow Glen High School emerged victorious over San Jose High School and Yerba Buena High School respectively. The two winners will meet to determine fifth place while San Jose and Yerba Buena will play to determine sixth place.Notes: Junior Hitomi Sugimoto suffered a left hand injury during the game. She will have to sit out the Dec. 11 game against Pioneer…The Matadors now scored 61 points for two straight games…Four lane violations were called, three against MVHS. All four came from missed free throws, and the shooters all made their second attempts. Day 1 (Dec. 9): MVHS 61, Yerba Buena 26The girls varsity basketball team made short work of their first game of the tournament, routing the Yerba Buena High School Warriors 61-26. 10 different players scored for the Matadors, who, at one point, led by as many as 38.
The first quarter was tight at 12-6, but by halftime, the Matadors built a 22 point lead with eight steals. MVHS' full court press forced the Yerba Buena guards to commit 14 turnovers, leading to easy scoring opportunities both off the fastbreak and in the Yerba Buena backcourt.The starters were off the court by the end of the third quarter, taking advantage of the blowout to become fully rested for the next round. Meanwhile, the Matadors playing off the bench kept the team rolling to amass a 47-18 lead at the end of the period.With the win, the Matadors look to carry their momentum to their second round game against the South San Francisco High School Warriors.In the other games of the tournament, Pioneer High School won against Saratoga High School while Newark Memorial High School defeated San Jose High School. Both will meet in the second round. South San Francisco High School triumphed over Willow Glen High School to advance and face the Matadors.{cc-by-nc-sa}