Cooking like a pro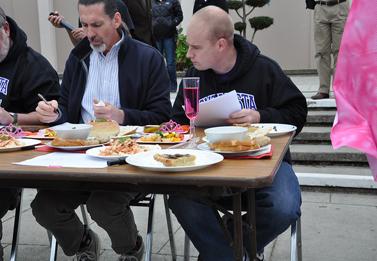 Edward Wang
November 24, 2010
Five teams battle it out for the Iron Chef title









On Nov. 19, five teams gathered in the Rally Court for Iron Chef Cook-off, a lunchtime event based on Food Network's, "Iron Chef". Teams frantically worked to whip up their dishes, each of which was potato-based. At the end of the allotted cooking time, judges sampled each team's food, and, after much deliberation, awarded first place to Team Koochook, which consisted of Biology and Physiology teacher Pooya Hajjarian, and seniors Sonika Singh, Michelle Hara and Nicolet Danese.
The Teams:
Team Fromage: Members: Sophomores Vishnu Narayana and Rohan Prakash; Senior Viktorie Reichova; French teacher Lise Gabet. Food prepared: potato curry sandwich and soup
Epic Sauce: Members: Sophomore Adi Nag, Senior Stella Ziegler and English teacher Matt Brashears. Food prepared: fresh bread, bacon and soup.
Outeveter Girls: Members: Sophomores Hita Bhagat, Janani Natarajan and Nassim Moallem; math teacher Martin Jennings. Food prepared: sweet potato pie.
Chow Mex: Sophomores Samantha Huang, Jacqueline Yee and Ivana Holman; Photo teacher Brian Chow. Food prepared: chicken tinga.
Koochook: Seniors Nicolet Danese, Sonika Singh and Michelle Hara; Biology and Physiology teacher Pooya Hajjarian. Food prepared: cutlets and bell pepper salad.