PHOTO GALLERY: Varsity girls tennis places second in CCS, but looks to win at the state level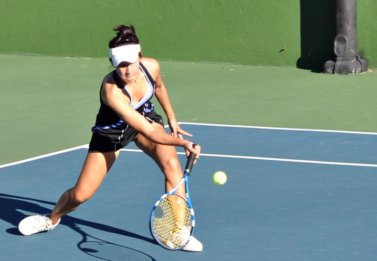 Girls lost 6-1 on Nov.17






Pictured above are photos from the
The Nov. 17 CCS finals brought another year of tennis rivalry among the Saratoga Falcons and the MVHS girls varsity tennis team as they battled for the second year in a row. The SHS girls beat the Matadors last year and yet again managed the same feat. Saratoga came in with a 17-0 record for the season and left 18-0. The girls tennis team placed second losing 6-1.
First seed, senior captain Slyvia Li lost to junior Crystal Yen after two sets. In the first set, Li lost the first game and won the second. Unforced errors caused Li to lose four more games with Yen winning the set 6-1.
In the next set, the players battled hard but Yen managed to hit a few balls past Li when she grew too close to the net. Yen thought she was done in the seventh game with a score of 5-1. However, Li held firm beating her opponent. Yen was frustrated immensely, but managed to beat Li in the eigth game, causing her to win the set 6-2.
"I knew it would be hard, so I prepared myself to be patient," Li said. "But I think I was a bit tight and nervous."
The number one double team, sophomore Ruri Kobayakawa and freshman Kelsey Chong, won their match putting the Matadors on the board.
The third seeded doubles team, senior Jackie Lim and junior Nitisha Mehta also lost their match. The team had five games that were decided after a deuce.
"It would have been nice to win," Mehta said. "But it is good practice for our Northern California tournament."
Second seeded singles play senior Vynnie Kong lost her one of her sets by a single game.
Their coach, Gene Fortino, turned their loss into something positive. "The girls played unbelievably," Fortino said. "I think their loss will help them to be motivated going into the state competition."
Last year, the Matadors came back from their loss in CCS to beat the Falcons in the final round of the Northern California State Tournament. Taking the top two teams from each league, the possibility of a rematch yet again emerges at the the tournament this weekend on Nov. 20-21.