Cross Country season wrap-up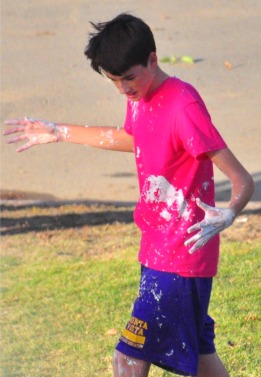 The boys team and two girls from cross country run in CCS finals on Nov. 13




The boys team finished in eleventh place at the CCS championships on Nov. 13. Winners are determined by adding up the collective places of the fastest runners. In this case, the five fastest boys on the MVHS team, earned them their place.
Top runner for the team, junior Kevin Bishop, ran the three-mile trek at Toro Park in 16 minutes and six seconds placing fourth. He will be advancing to the state level of competition.
Junior Shivam Khanna ran a time of 17 minutes and 17 seconds, placing 49th.
Bishop has been practicing independently with a private coach. "I have been doing a lot less speed work," Bishop said. "My coach has had me do more activities within the run[versus just running long distances]."
Prior to his race, Bishop noted the change in experience between this years CCS race and last years. "Last year, I wanted to win, but it was more of a hope," Bishop said. "This year, winning is more of an expectation."
Other runners for the MVHS team included senior Michael Lu, freshman Takuto Doshiro, freshman Ryan Bishop, sophomore Sanjeev Dwaraka, and sophomore Daniel Yeung.
The boys' collective times in their league at Crystal Springs, thus qualifying seven runners and two alternates for the CCS finals. From the girls team, freshmen Kirsten Do and Bridget Gottlieb qualified through a different manner.
Gottlieb ran a time of 20 minutes and seven seconds to come in 16th place, while Kirsten Do ran the race in 20minutes and 59 seconds, finishing 35th.
According to their coach Jerry Noble, the 10 fastest runners that aren't on CCS-bound teams qualify individually.
Sophomore Sanjeev Dwaraka notes that in between leagues and CCS they did not train very hard. "We don't really do anything new [right now]," Dwaraka said. "We are just staying in shape."
However, before the league finals the team was training hard. Dwaraka noted that the team has been running on the weekends to stay in shape, so that they are ready their hardest workouts on Monday.
Noble also added what he has been doing to improve the runner's speed. "We have been working on their lactic acid threshold," Noble said. "Basically, the [students] run until they can't run any more; we wait 30 seconds, and then do it again. As your body gets used to the lactic acid, the capillaries that drain it away become larger, and you become more efficient."