15 Days of Fame: Horsing around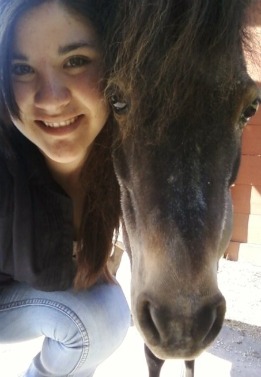 Senior Kailyn Hall's miniature horses are like little siblings





Senior Kailyn Hall is an everyday equestrian. Not only does she train her horses, she also feeds, bathes, sprays and drives them. And she loves them.
Hall, an active member of the Rolling Hills 4H Club, is a part of the miniature horse project. She takes out Tuesday mornings, evenings, and Saturday mornings to care for the horses. Hall's own horse Boxer, at 23 years old, is the eldest of the 4H horses. The remaining horses, Tex, Kelly and Starbuck, belong to other members of the 4H club.
Before Hall first started working with horses, she was terrified of them. But looking to her mother, who had also showed horses, she found the courage to try something that would prove to become the focus of her life. Since then, she has embraced these four horses as her family. Through all of the time she has spent with them, she has gotten to know them individually. Boxer is the nosy one—he gets into everything, he opens lids and will eat anything. Tex is a bit of a bully, and stands out for his coloring. An incredibly smart horse, Kelly has grown accustomed to people after living in an open pasture. Her brother Starbuck is the baby in every way.
"These are miniature horses, so they're really smart, and they know that," Hall said. "They're almost like real people."
People come and go, but these horses will stay in Hall's life. And no matter what happens, Tex, Boxer, Starbuck and Kelly will look up to their big sister.
{cc-by-nc-sa}