Music: Top or flop—'Doo-Wops & Hooligans'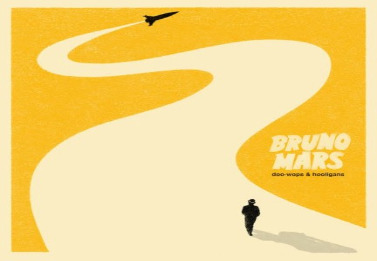 El
Estoque
critiques Bruno Mars' latest album, '
Doo-Wops
& Hooligans'. Will it top or flop?
On Oct. 5, Bruno Mars released his debut album, "Doo-Wops & Hooligans". El Estoque looks at the pros and cons of Mars' new album—will it top or flop?
Top: Bruno Mars pleases just the way he is
Singer of 'Just the Way You Are' drops new hit album
Girls, be excited: the music industry has dropped a new kind of manna for the ears, and this time it's absolutely out of this world. The windfall from the the planet of Mars—Bruno Mars—will make you daughters of Venus cling to the ends of the Earth with delight at his melodic declarations of love.
On Oct. 5, the Hawaiian crooner released his first album "Doo-Wops & Hooligans," finally establishing his own stand in the music world after collaborating with the likes of B.o.B. and Travie McCoy. Mars has already tasted wild success from his tender summer single, "Just the Way You Are," a simple yet charming song that has been ubiquitous in the last few months. Now, with brand-new tracks and an ever-growing fan base, there's no telling how high Mars and his heart-stirring music will rise.
The highlight of Mars' music is his distinctive voice—it's sweet and sensuous like that of a murmuring lover, yet its edginess adds spice to make the listener yearn for more. His voice covers a surprisingly wide range in this album: consider the song "Grenade" and its astonishingly steep notes. But Mars makes it sound effortless, skillfully controlling the rise and fall of his breath to produce a sound that goes perfectly with the strong beat.
As expressed through "The Lazy Song," the other charming aspect of Mars' music is the down-to-earth quality of his lyrics. In this new tune, he sings, "Today, I don't feel like doing anything," and accompanied by the casual thumps of a Hawaiian drum, he manages to sound laid-back and blissful. He goes on to describe his desire to loll around in words you would expect in everyday conversation, not in music. Mars seems more connected to the general public than other artists, free of unnecessary embellishments—true to himself and others. In this world of recycled and reused melodies, his indisputable sincerity about the concept of love shines through his songs.
A particularly thought-provoking track on "Doo-Wops" is "Talking to the Moon," in which Mars abandons his cheerful talk. He still sounds infatuated—almost intoxicated—with the lucky girl (whomever she is), but he mourns for her absence in a spree of nostalgia that adds a more solemn shade to the album. All the better: a romantic story of heartbreak is always worth a listen when you feel down.
Despite his recent run-in with the law over cocaine possession, Mars has the means to succeed with this collection of whimsical love songs that you would want to hear from your boyfriend. Get ready to keel over with ecstasy.
Flop: Bruno Mars' debut album, 'Doo-Wops & Hooligans' disappoints
Lacking a cohesive theme, 'Doo-Wops & Hooligans' will have you reaching for the ibuprofen
Once again, a strong single track tricks consumers into buying another over-hyped album. Like La Roux's "La Roux," Katy Perry's "Teenage Dream" and Mike Posner's "31 Minutes to Departure", Bruno Mars' debut album, "Doo-Wops & Hooligans" is another one-hit blunder.
"Doo-Wops & Hooligans" is an amalgam of songs thrown together, lacking a cohesive theme—similar to a mix tape gone wrong. The obnoxious mood swings from song to song make listeners want to get off the emotional roller-coaster. For example, "Marry You" and "The Lazy Song" have beats that don't blend in well together and juxtapose each other to exemplify the mumbo-jumbo mess that leaves listener confused.
The only strong tracks of the album are "Grenade" and "Just the Way You Are." "Grenade" is about having one-way relationship, and "Just the Way You Are" is about loving every element of a person. The concise and crisp lyrics and melodic beats in the two songs make up for the bipolar styles. The last time an artist decided to place the strongest track on the forefront was Katy Perry's "Teenage Dream," with "Teenage Dream" and "TGIF" as the first two tracks.
Unfortunately, "Doo-Wops & Hooligans" lacks originality and is extremely repetitive after the first two tracks. The song "Count on Me" forces listeners into a bad deja-vu moment, reminiscent of the songs "Lean on Me" with its cliché meaning and the Plain White T's "1,2,3,4" because of the overdone style. In addition, Mars' repetitive lyrics in "Talking to the Moon" and "Liquor Store Blues" will cause a headache. Along with having repetitive lyrics, some of the songs have an unusual background track. "Runaway Baby" has instrumentals that are just plain awkward since the beats don't match the rhythm and meaning of the lyrics. Similarly, "Our First Time" has the cheesy 80's chime and random vocalizing that will have listeners running back to the first two songs.
With migraine-causing songs due to the awful beats and lyrics, don't waste 10 dollars on the whole album. Save yourself the headache and the money by just buying the few hits.
What do you think? Did Mars' album top or flop? Let us know in the comments below.
{cc-by}