73 days of summer practice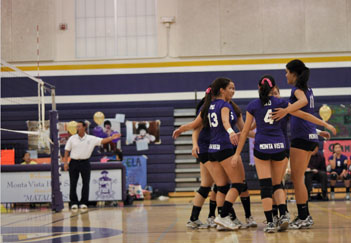 Scott Hyon
August 29, 2010
Dedicated athletes sacrifice summer fun for sports
Even though summer offered a three month period of rest, some athletes struggled to find even three minutes of rest in between their sports training. Football players, cheerleaders and volleyball players were just a few of these many dedicated athletes.
Football players focus on the basics
Over the course of the summer, varsity football coach Jeff Mueller held optional, two-hour summer practices from Monday to Thursday. By attending these summer practices, various football players hoped to gain an early advantage in the season.
"We want to hit the season once school starts and all that. Be ready to go, not just work on the fundamentals," senior Victor Wan said.
"The more practice you do, the more reps you get," senior Vignesh Venkataraman said. "You always get more comfortable physically and mentally."
Because football is such a team-oriented sport, both the technical skills and the mental preparedness of players are crucial to success.
"[Summer practices] are much less intense," Venkataraman said. "So this is more just like a walkthrough. It's not an accurate representation [of practices during the year], but it definitely helps you get in shape. It keeps you on your game."
Cheer camps nurture team camaraderie
Though cheer did not hold daily summer practices, members of cheer participated in intensive camps that required them to travel to other parts of California.
During the third week of July, cheerleaders participated in the renowned Universal Cheerleaders Association camp at California State University Monterey Bay. Also, during the first week of August, the group entered the United Spirit Association spirit camp at UC Santa Cruz. These camps focused on team camaraderie more than any other sport because a sense of kinship is necessary for seamless coordination and synchronization. In fact, this aspect of cheer camp was the most memorable part, according to sophomore Christina Jang.
"I remember the rally and the free time when you hang out with people," said Jang.
The "free time" was one of the many ways that summer programs helped the cheer team prepare for upcoming sports seasons and competitions. Even though technical skills were the main focus of the UCA and USA camps, the friendships that were developed among the cheer members were still a vital component of the entire summer program experience. It was productive and memorable, but more importantly, it nurtured a strong bond among all of the team members.
Volleyball players seek clubs for improvement
While football and cheer members attended school practices and out-of-town camps, many volleyball players, such as junior Savannah Day, attended clubs outside of school, as well as open gyms on campus, during the summer.
City Beach, the club that Day attended, was just one of many volleyball clubs around the Cupertino area, including Eclipse and Point Break. While each of these clubs had a different approach to teaching volleyball, all of them emphasized technical skills, as opposed to team relationships.
In her club, each practice is three hours long, and tournaments, which can be held in places such as Reno, usually last for two days each. The time commitment is necessary to improve skills which would otherwise deteriorate during the summer, since the open gyms held at MV are less productive.
"Open gyms aren't as focused," Day said, "You just play, have fun, and get back in shape. But at club, you learn a lot more drills and skills."
73 practices, 3 sports, 1 goal
Whether they're called practices, camps or clubs, these off-season activities were all tailored in different ways for the different sports. But in spite of their differences, they all had one common goal: to put athletes one step ahead of the competition.