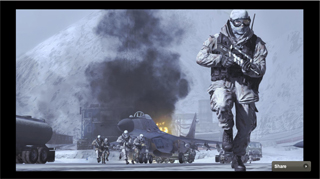 Hit video game "Call of Duty" has caused many boys to halt their lives
My fellow girls, have you noticed something peculiar? Many of our high school men seem distant; perhaps they don't answer calls or texts or any other means of communication. Would you like to know why?

"Call of Duty", the newest shooter video game which has accumulated $550 million in sales, came out on Nov. 10, right before Veteran's Day. Boys have suddenly become crazy for killing.
Two things are necessary to play: the vital male part and a killer instinct.
"It releases stress," sophomore Vybhav Kandadai said. "Like in Grand Theft Auto, [another video game], I just loved shooting people down and killing innocent people but I would never do that in real life. [In fact,] it stops bad stuff from happening in real life because we can let it out through the game."

Kandadai presented a logical approach to a controversial topic. One of the scenes in "Call of Duty" has created a negative stir. In the level, you play a terrorist who follows a Russian named Makarov, shooting all the civilians in line at an airport in about 50 seconds. Along with realistic gun shots and helpless cries for life, the scene's heinous blood splatter can easily be called disgusting.
Jesse Stern, a writer for "Call of Duty", told John Gaudiosi of GamePro, "We've been catching a lot of criticism for that and a lot of praise as well. People have really strong reactions to the airport scene and it's been fascinating because we all wanted to make it something that would be upsetting, disturbing, but also something people relate to. There's something instantly identifiable about it when it happens, when you're in that situation and the level begins.
And multiple males concur. Senior Daniel Esparza said that "being a solider is fun, without actually being killed or killing [real people]." Esparza arrived at GameStop on Nov. 9, minutes before "Call of Duty"—better known as "COD"—was unleashed.

"There is this sense of accomplishment [that] vents anger," Esparza's brother, sophomore Peter Esparza said. Peter has played for about five hours every day since the release.
But why "COD"? Aren't there other games just like it that have the same game play style.

"[The game]
is more fun, realistic, and has better graphics and the greatest game play," Kandadai said. "And the campaign is epic."
This intense game has been applauded for its ability of muilti-player play with up to eight other people, friends or strangers on the internet, on your team. This online alternative after beating the game has caused many to continuously play for hours. Sophomore Ryan Barrnet has acquired 14 hours since he bought "COD" even though he only took seven hours to beat the game.
"I didn't want to be with people [on Veteran's Day]," Kandadai said, "I wanted to play "COD" all by myself. I didn't even leave my house on Wednesday…I was in my boxers all day."
"It is like a drug," senior Adi Rao said, "You don't remember it." When asked how long he could play it for, Rao responded, "If I didn't need to get food and go to the bathroom? Probably two days straight."
The hype about "Call of Duty" has left many in trapped in their pajamas all day long, partly because of the interesting and complicated story mode. The player's main goal is to retrieve Washington D.C. from Russian ultra nationalists. There are levels in Iraq and space and you have the capability of customizing your characters and adding special perks. The perk called Cold-blooded hides you from your opponent's radar. Scrambler prevents you from being detected when you shoot your gun and Burst allows you to shoot three shots at a time.

"It is sexy. It does everything right. No other game does it like ["COD"] does," Rao said, "It makes [the movie] 'Transformers' look bad."
{cc-by-nc-sa}