The not-so perfect ten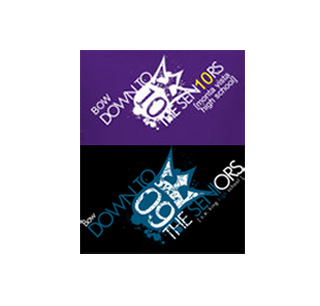 Plagiarism hits the 2010 senior class t-shirt design contest.
Seniors voted for their favorite set of shirt designs throughout the second week of school, and the winning design was announced on School Loop on Saturday night, September 4.
Within five minutes of the announcement, senior Ethan Krajnovich had dedicated a discussion board to the winning t-shirt design results, titled "Repulsive class t-shirt," and senior Avinash Changavi posted the link to the original design. Then came the uproar.

Students responded with negative comments and incredulity about the shirt design.

"I was just shocked… I wouldn't want to wear anything stolen," senior Gene Fan said.

It became apparent that the design had been copied from the senior Class of 2009 shirt design at C.E. King High School in Houston, Texas. The shirt designer declined to comment.
To remedy the situation, the 2010 class officers decided not to use the copied, albeit winning, design, and launched a second poll of the five runner-ups within a few hours. The new poll gathered votes from approximately 350 seniors, and ended Wednesday, September 9. The winning design was announced to the class Tuesday night, September 15.
Yet another controversy stemmed from a design submitted by senior Nick Utley featuring a spin-off from the Red Bull logo and slogan. In a separate discussion board, created by senior Daniel Esparza, several students discussed whether regulations for design submissions should be instated to protect against the appearance of sponsorship.