Not so happy? If you fake it, you retake it!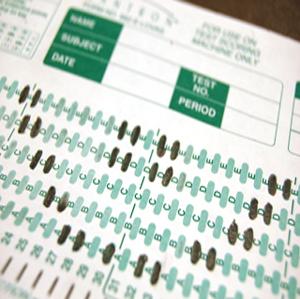 https://www.elestoque.org/2010/images/stories/NewsImages/startesting copy.jpg
Students who don't take the STAR test face consequences.
Junior Kevin Hayes thought he had finished his last high school STAR test. But on April 28, during third period, he was called into Portable 7 to retake both his science and math STAR tests—for the second time.
According to assistant principal Brad Metheany, e
veryday after the
STAR
tests, each test was opened and was given a quick glance. Numerous teachers were told to make sure students

were

not sleeping and bubbling in at the last minute. Teachers had sent in names of students who did not take the test seriously

,

and those students later had to redo their tests.
Every year, a few students have to retake their tests because instead of taking the test seriously, they fill in the bubbles in the form of shapes like smiley faces. 
Hayes was one of those students. On his science STAR test, he made a smiley face out of bubbles and on his history test, he made a rocket ship.
"I really didn't want to miss class that day because we were doing important things in third period," Hayes said. "I didn't get to do the activities [in third period] so I would've taken the STAR test seriously because I didn't want to take the STAR test twice."
The second time, however, Hayes rushed through most of the questions because he wanted to finish the
STAR
test as quickly as possible. For Hayes,
the STAR test is unimportant
because it has no effect on his grades.
"Students are done with the test in 30 minutes," Social Studies teacher Andrew Sturgill said. "It's not that big of a burden. It's for the state to see how students are doing. They goof off [by drawing smiley faces] because they want to be smarter, cool, or edgier."
Junior Sandra Cukic, like Hayes, also bubbled in a smiley face on her Scantron. Cukic has never taken the STAR test seriously but was not called i
n to retake her STAR test. 
"I usually sleep…and in the last 10 minutes I'll bubble in whatever," Cukic said.
According to Sturgill, the STAR test gives him an indication of how well his students are doing. It's also a tool to see how well his kids did and allows him to adjust his teaching.
"The STAR test is important information for a student's progress," Assistant Principal Brad Metheany said. "When I write recommendation letters [for college applications], I look at the student's STAR test scores and I see how their tests compare in the national percentile to the state."

Out of the 1,865 juniors, sophomores, and freshmen on campus, 1860 students took the STAR test, a number which, according to Metheany, is "pretty darn good" compared to other schools. Of the five students who didn't take the week-long star test, two were seriously ill, two were hard to find, and one student opted out of taking it since the STAR test is not a mandatory test.
"I'm very proud of the students," Metheany said. "Very, very proud. Students know that this is important to them, not just important for the school. As a group, we are wonderful.