Lil Wayne: Man on fire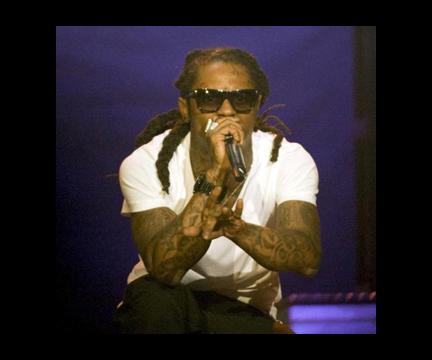 Shreya Shankar
April 3, 2009
Lil Wayne brings the heat to San Jose on March 27, 2009.
The first thing fans saw as they entered the HP Pavilion in San Jose on March 27 was a sign notifying them that T-Pain would not be performing at the concert. There was a widespread grumble of disappointment and incredulity. But that disappointment was blown away, along with the audience, when Lil Wayne took the stage.
The show opened with remarkably forgettable covers by a lackluster Bay Area rapper and more palatable song-and-dance routines from rising girl group Electric Red.
The openers' poor performances were forgiven and forgotten when Gym Class Heroes brought their characteristic charisma, along with lead singer Travis McCoy's charming boyish smile and witty one-liners. Starting off their set with "Peace Sign," a high-energy crowd-pleaser, the Heroes got the audience out of their seats and into the music. Halfway through their set, McCoy took a mild stab at singer Katy Perry. "I decided to let my ex-girlfriend continue to kiss other girls while I do my thing," McCoy said.
After an upbeat and well-rounded set, McCoy left the audience with one last thought. "If there's one thing [you should] take away from a Gym Class Heroes show, it's to love every moment… San Jose, I think it's time for us all to 'Live A Little'," McCoy said, smoothly launching into the the set's concluding song with finesse.
One agonizing break later, the lights dimmed and the stage became bathed in a hellish orange light. Lil Wayne had arrived. The audience broke out in primal screams.
The self-proclaimed "best rapper alive" started off his show by quietly and firmly assuring the audience that he paying full attention to them that night. "I see you. All of you," Lil Wayne said, speaking slowly louder, slowly more energetic, until he was wholeheartedly shouting. "I see you with the orange shirt… and you with that green thing. I see all of you."
His music, which started with a reggae version of "Shoot Me Down," also adopted a crescendo.
Among the highlights of the show was a stupefying performance of "Fireman," during which the entire stage flamed up.
Halfway through, Wayne was joined by fellow rapper Mack Maine, who collaborated with him on the hit "Got Money." Mack Maine introduced two younger brothers, aspiring rappers Lil Chucky and Lil Twist. The group was joined by rising rappers Drizzy Drake and Tyga, all of whom are signed to Lil Wayne's record label. "This," Lil Wayne said, "is my Young Money family."
After the group performed "Every Girl," Lil Wayne and the rest of the Young Money crew disappeared temporarily while Mack Maine held up the show. Soon, even Mack Maine was gone and the stage was bare, save for a DJ who deftly blew out the audience's ear drums with badly received remixes and beats.

Before long Weezy, as Lil Wayne is often called, was back, though he seemed to have lost his shirt backstage much to the audience's delight. He proceeded to steer the show in a harder, more rock-based direction, even playing a guitar and performing a few very well-executed solos. Lil Wayne finally said his goodbyes and began slowing down and wrapping up the show with "Prom Queen," which was written by Shanell, an artist on his label who sang backup throughout the concert.
The lights went dark as he walked offstage and his raspy voice suddenly cut through din of the crowd, asking the crowd if they wanted more. Of course, the general consensus was that yes, the audience did want more. After the audience had made sufficient noise, Lil Wayne bounded onstage to blindingly bright flashing lights and the familiar chant of "A Milli," which my sternum is still rattling from.
Lil Wayne ended the show by setting the stage ablaze—literally—and shot fire at the audience with a giant cannon that ascended to the stage. He concluded the show with one last thought. "Ladies and gentlemen," Weezy said. "You have just made history. You have just witnessed the best rapper alive."
And he may just be right.