Celebrity Stalker: 08, So great?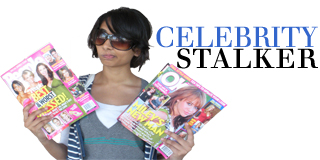 My top ten count down of the biggest celebrity scandals and tabloids of 2008.
We're already a month through 2009, and while most people are breaking New Year's resolutions, I took a look back at the amazing year we've just been through. The year 2008 has been quite a ride, and I'm sure all those New Year's specials from CNN and NBC would agree with my citing of cliché yet memorable events such as the record-breaking Olympics and the historic presidential election. However, this year, Access Hollywood and E! also decided to give the "year in review," and since I'm more of a trend follower, I feel I should follow suit.
This is my list of the 10 biggest celebrity events last year. Of course, 2008 had a few celebrity tabloids of the old-fashioned type, with your usual dose of rehab, affairs, weddings, and divorces. Yet, what made 2008 a remarkable year was the shift into politics. While the A-listers such as George Clooney and Jennifer Aniston took a back seat, Tina Fey and Barack Obama's lean abs became all that Americans cared about for months.
Obviously, there were other top stories that aren't on this list. However, unless you crave constant updates on Angelina Jolie's infinitely growing family, I'm sure you'll agree with it.
10. Out of the Closet: Even though Prop 8 passed, that didn't stop Clay Aiken from coming out and adopting a baby. What a shocker.

9. Destiny Hope: Yes, that's Miley Cyrus' actual first name. This year she's 16 and that means she's ready to become a big girl now. From the revealing Vanity Fair photos to her own personal Myspace-styled photos with exposed body parts, we've seen a lot of Destiny Hope Miley Cyrus.

8. Mrs. Rehab's Implosion: Personally, I do not understand Amy Winehouse. I'm incredibly sorry if you're a fan, but her music sounds as if a frog died and lodged itself inside her throat. I think her parents could see the future as Winehouse is her real last name and not a stage name. Winehouse's self destructive behavior has been all over the media. This year she ingested a mixture of heroin, cocaine, ecstasy, and booze, which led to her stomach being pumped. Wow, that's pretty intense.
7. Addicted?: Drugs? Nope. Hollywood's found a new addiction: sex. David Duchovny from the "X-Files" checked into a facility for sex addiction. To be honest, I had no idea who Duchovny was, being that the "X-Files" are a bit beyond our generation. I guess a Yale education doesn't always guarantee a problem-free life.

6. The Joker: "The Dark Knight" was one of the biggest movies of the year, and one of the most amazing movies I've seen. Heath Legder's sudden and tragic death was definitely shocking, and his Golden Globe was deserved. His last moments also added to the attention. After Ledger overdosed on prescription medication instead of immediately contacting 911, Mary-Kate Olsen was contacted for help. However, after the paramedics actually came he was found dead. I'm not sure what they were thinking in calling her.

5. Dun Dun Da-Dun!: Jay Z and Beyonce. Ellen Degeneres and Portia de Rossi. Mariah Carey and Nick Cannon. Jessica Alba and Cash Warren. The list goes on and on. America has and always will love celebrities getting married. I'll keep you updated on which ones actually stay together.
4. Guys, She's Single: The biggest divorce in history. Madonna broke it off with Guy Ritchie due to his "unreasonable behavior." Well, at least he gets a staggering $76 million for his behavior.

3. Gimme More!: Britney's back, and bigger than ever. She's had a string of top hits from "Womanizer" to "Circus," and no shaved heads! Now, when parents tell their kids never to give up, they can use Spears as an example.
2. Crimes: OJ Simpson was finally convicted and put into jail due to the robbery back from 2007. However, more important and devastating were the violent deaths of Jennifer Hudson's mother, brother, and nephew, with her former brother in-law convicted as the murderer. Hudson had been a rising star for the past few years, and fortunately America rallied behind her showing sympathy and compassion.

1. Elephants and Donkeys: Last and most importantly was the 2008 presidential election. While John McCain claims, "Washington is a Hollywood for ugly people. Hollywood is a Washington for the simpleminded," this year politics and Hollywood became synonymous. Americans would watch the debate on Wednesday, and watch the parody of it on Saturday Night Live with Tina Fey. The election took over CNN and Access Hollywood, with Obama appearances on both shows. The election broke history, bringing politics into mainstream America once again. Now you can be Facebook friends with Sarah Palin!