Family Gene-ius: A Desai December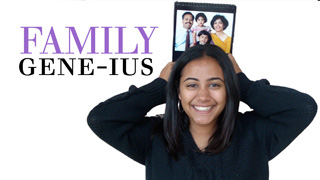 Shreya Shankar
December 18, 2008
What it's like to be in the Desai family during the holiday month.
Every Christmas Eve when I was younger, my parents would tuck me into bed after we had put out milk and Oreos for Santa (with my dad always eating one, claiming that Santa could do without the calories of that one cookie). For a solid 45 minutes, I would stare at the ceiling until my brother came inside my room so that we could start our annual mission.
We did this every year—attempt to catch Santa in the act. Together, we descended the steps into the foyer that overlooked where our living room fireplace was located. We stayed huddled together in silence, just waiting for the sound of reindeer using our roof as their landing pad and the chubby man we loved so much to come bounding down the chimney.
One year, we thought we had him. We heard noises from the kitchen and figured he had taken some kind of alternate route to get into the house. Much to our dismay, it was only our father starting the dishwasher since he had forgotten to do so earlier. We snuck back upstairs and finally went to bed, waking up a few hours later and hounding at our parents so we could get to the Christmas tree where, yes, our presents had magically appeared. The whole morning was spent in glee as one by one, we received every gift we had asked Santa for—conveniently all compiled in a letter my mom had taken to her travel agency weeks before to send to the North Pole.
Times, unfortunately, have changed. My brother and I eventually learned (spoiler alert!) that Santa is not real. We've stopped writing letters to Santa, choosing instead to go directly to our parents with gift requests. And the night my dad was in the kitchen? He waited until he heard us go back to bed (which shattered both me and my brother's dreams of being secret agents) before putting all our presents under the tree.
Every year during December, presents continue to pile up underneath our tree. They appear from the beginning of the month, though, instead of the night before Christmas. Some of our family traditions have died—like getting a real Christmas tree—but many new ones have been born. I'm now the first one to wake up on Christmas morning to make hot chocolate for my whole family. I still make a Christmas mix CD that plays in the living room for the whole month of December, my whole family still watches "Elf" at least every other day leading up to Christmas, and my mom and I still partake in crazy holiday sales though we know better than to mess with some of the determined women we meet along the way.
This year, my brother and I both opted out of asking for lots of little Christmas presents. Our parents over the years have realized that as we get older, it's better if they just ask what we want upfront and buy it for us. One ticket to Britney Spears' world tour next April is the best pre-Christmas present I ever could have asked for.
There's something a little different about this holiday season—it's a little more sad knowing that next Christmas, I will be a college freshman and my brother will be out of college with a job. It seems like just yesterday that my brother and I desperately tried to catch Santa, and now we're both embarking on big parts of our lives. But maybe that's what makes this holiday season that much more magical for me. The holiday season is the perfect time to spend with your family. No matter how cliché you think lighted houses, delectable baked goods, and holiday shopping trips are, there's an air that surrounds the holidays that comes at no other time of the year.
My family is what makes my holiday season magical, and I hope you have a magical holiday season with yours as well. To you and your family—happy holidays. I'll see you (AS A SECOND SEMESTER SENIOR!) in 2009!