A novel idea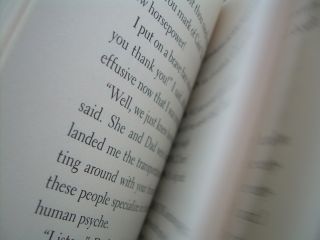 There is nothing nano about "NaNoWriMo"; MV students took on month-long novel-writing journey
NaNoWriMo has nothing to do with the latest Apple music device, nor does it have anything to do with post-modern technology or millennium robotic species, which are generally the things people associate with upon hearing—gasp—"nano."
NaNoWriMo is the shorthand for National Novel Writing Month, founded by writer Chris Baty in 1999 in the San Francisco Bay Area. Its participants undertake writing a 50,000-word (roughly 200-page) novel for the entire month of November. It is only mission impossible by its sound, as three MVHS students finished with at least a day to spare.
Seniors Amogh Havanur and Nikhil Anand worked as a team, with the idea of writing a novel in a month first coming to them in the unlikely form of science class.
"We were bored in [AP] Chemistry class and just contemplating ideas," Anand said.
The idea ended up being a "semi-science fiction literary piece" about a journalist who writes about another journalist who fabricates and exaggerates in his articles to see how far he can push without getting caught.
"It is kind of mocking newspaper editors who manufacture their own letters [to the editor]," Havanur explained.
Collaborating on Google Docs, tag-teaming made the challenge easier. Havanur and Anand each contributed about 7,000 words to the 50,000-word quota every night, alternatively. From the beginning, they drew much of their ideas from inside jokes among friends and incidents in AP Chemistry class. Writing usually did not take them more than 20 minutes every night.
But it took more than twenty minutes per night for those who wrote alone. Senior Neta Assaf, a third-time participant in NaNoWriMo, spent from one to three hours each night writing. Assaf first participated in the challenge in her sophomore year, but this year was the first time she reached the goal of 50,000 words.
"I set aside more time this time," Assaf said. "[But] I made sure it didn't affect homework."
Assaf typically started writing after midnight, when the house was quiet and her younger siblings would not disturb her.
Unlike Havanur and Anand, who drew their ideas from mostly real-life experiences and the genre they were comfortable in, Assaf wrote a romance about how people react to strange situations, mentally. She had forgotten about NaNoWrimo and started three days after the start date; she did not have time to come up with another plot.
A long month of battling word count—NaNoWriMo encourages quantity over quality—led Assaf to consume more coffee than usual, often cold and just with sugar, in order to stay up. She found the second week of the month the hardest, since she had started with a weak plot, she realized she "had to stop having fun with the characters and something needs to happen." Plot changes were not uncommon, and Assaf learned to blend changes in the story, even if somehow awkwardly—it was only a first draft after all.
Havunar and Anand enjoyed the writing process because they incorporated so much of their real-life experiences into the novel, "'Concerned' Citizen." They worked the chemistry exception rule, Srcaba, into one of the characters, the medieval king Sirbaca; and Dr. Akhil Amar from the Yale Blue Book (the university's undergraduate catalog) also made his way into "Citizen" as a villain.
The prospect of the finished product becoming an actual book also encouraged the team: "In the middle of the month, we found out that there was an easy way to publish on Amazon. It boosted our morale," Anand said.
"Citizen" was now on its way to being revised and Havanur and Anand hoped to publish it via the on demand service on CreateSpace.
For Assaf, she saw new light in the untitled novel by the end of NaNoWriMo: she had discovered a new plot to work on for her next project.
In order to reach the 50,000-word endline, NaNoWriMo recommends that participants write at least 1,666 words each day to be on track.
"When you don't write that intensely, you don't finish things," Assaf learned. "Don't let yourself forget about it, don't let yourself let it go, convince yourself that it is important enough."
In the end, the actual writing—"the first draft sucks, anyway," Assaf said—did not matter as much as the sense of accomplishment rewarded with achieving the seemingly colossal project.
"You get this sense of exhilaration. You realize you set out to do it and you had done it," Havanur said.
Upon crossing the 50,000-word finish line, Assaf rewarded herself with sleep. Nothing cheered her up more than the winner's pin and certificate NaNoWriMo sent out the next day to those who finished.