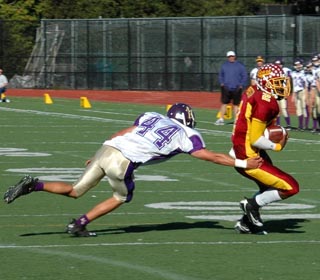 The Matadors almost came back after falling behind to the Bears, but they ended up losing 36-20.
The football team hadn't been to CCS since 2000, and they hadn't won a CCS game since 1992 when they won the championship, before some of the younger players had been born. This did not change on Nov. 22 when the Matadors lost to the Menlo-Atherton Bears, 36-20. The first-seeded Bears were strong favorites going into the CCS game against the eighth-seeded Matadors and showed why on their home field.Right from the beginning, Menlo-Atherton dominated the play and took a commanding early lead. The Matadors' offense did not advance the ball up the field and could not tackle the quick Bears' running backs on defense. Menlo-Atherton ran the ball with ease and experienced success on their first two drives, scoring touchdowns on both thanks to rushing plays by Menlo-Atherton seniors Rod Nash and Will Preston. After all this, MVHS still had not recorded a first down.On the Matadors' next possession, they drove the ball to the opponent's six-yard line and had a first-and-goal, but quarterback senior Justin Rahn threw an interception on third down, keeping the score at 14-0. Menlo-Atherton scored another touchdown near the end of the first half with another run by Preston. After MVHS punted it away again on their next possession, Menlo-Atherton ended the half with a field goal by their kicker, senior Eric Stanske, to put them ahead 24-0.
The Bears came out strong to begin the second half, to continue to control the game. On the first play after the kickoff, Menlo-Atherton senior Vaughn Smith ran the ball for a 75-yard touchdown to put them ahead 30-0. Matador senior Blake Fitzwater blocked the extra point to keep the score the same.
With Menlo-Atherton's momentum high and MVHS' chances looking slim, the Matadors started to show some signs of life on their next drive. After stringing together a few first downs, their cheerleaders encouraged them to continue: "We want a touchdown!" Soon after this, the Matadors delivered with a 15-yard touchdown pass from Rahn to senior Max Ratkovich to put the score at 30-7.They then caught the Bears off guard with an onside kick that junior Alex Spurzem recovered. After a couple of plays, the Matadors scored another touchdown off a 6-yard passing play to junior Wesley Oberhelman to bring them closer, now making the score 30-14.Menlo-Atherton then got the ball, looking to possibly put the game away with another score. After a couple plays, they fumbled the ball at the MVHS 48-yard line. After the fumble, Ratkovich received a 40-yard pass and the Matadors soon followed with a 4-yard touchdown run by Rahn. The Matadors went for two to try to make it a one possession game but were unable to convert.
MVHS had the ball one more time and went into a no-huddle offense to save time and try to quickly score, but it came to a fourth down and 25. The Bears stopped them, resulting in a turnover on downs. Menlo-Atherton ended the game with another touchdown by Smith after they were given good field position from the turnover on downs. They missed the extra point and the game ended 36-20 in favor of the Bears."[The Matadors] are a really great team," Menlo-Atherton coach Phillip Brown said. "I told my kids to be ready to play and they gave us all we could handle, scoring 20 straight points and beating us in the second half. Hats off to MVHS.""We came back roaring in the second half, and if we hadn't spotted them points in the front end, we'd still be playing in the playoffs," MVHS coach Jeff Mueller said. "We had a great year and ended it 8-3 and were one of the eight teams who were still playing when playoffs started. The kids never gave up, and that's all we wanted from them."