From posters to confetti: A clean campaign?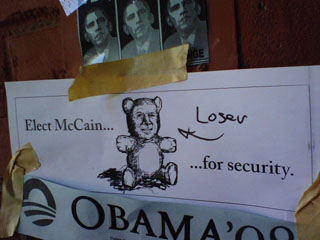 Misguided students shred campaign advertisements.
"Palin Power", "Palin Power", "Palin Power"; the A, B, and C building walls read. A few hours later, shredded pink remnants clung on the walls. There was hardly any sign that they were intended for the mock election.
In hosting the mock election, the Gov Team and Government classes promoted for the campaigns of both the Republican and Democratic presidential candidates. On Oct. 27, the classes assigned to Republican presidential nominee John McCain placed campaign posters around MVHS. That same day, many of these posters were taken down and either trashed or left littering the ground. Some students never even caught a glimpse of one.
According to Government teacher Christopher Chiang, there were two major factors that most likely led to the removal of the McCain posters. The student body was not notified about the mock election through announcements until Tuesday morning. Also, because of Monday's fire drill, the classes responsible for Democratic nominee Barack Obama did not have a chance to put up their posters.
Normally, political posters are not allowed to be posted around campus, but the point of the campaign posters was to get students talking about the mock election. According to Chiang, because students weren't used to seeing political images around campus, they may not quite have known how to respond.
"Some students may have thought that expressing their voice meant that they could take down someone else's poster, which isn't the case," Chiang said.
According to Chiang and McCain campaign manager senior Bryan Nguyen, it was upsetting for the students assigned to create McCain posters because there was a lot of effort involved in the process of producing and posting them. Many were handmade and represented hours of combined thought and production. Also, they weren't necessarily supporting McCain; political parties were assigned to classes.
"Those students spent many hours making those posters," Nguyen said. "To see them get torn down in seconds really hurts."
In future mock elections, students will be reminded to respect campaign posters.
"If they disagree with someone else's poster, they can come forward with that in the mock election," Chiang said, "but they shouldn't express their disagreement through taking down the posters."
On Oct. 28, a second round of McCain posters was posted by a class assigned to Obama. Most were torn down, and it was the last day any posters were put up.