In memory of alumnus Justin Perkins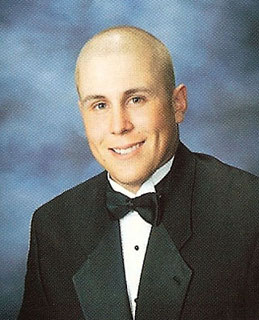 Alumnus Justin Perkins dies after battle with cancer.
On Oct. 26, class of 2005 alumnus Justin Anthony Perkins, born Feb. 15, 1987, lost his five year battle with stomach cancer at the age of 21. He was diagnosed during his junior year of high school, shortly after the last football game of the 2003 season. Perkins faced the initial diagnosis with optimism and determination to overcome his cancer, refusing to allow cancer to dampen his academics as well as his zeal for sports.
"[He was] soft spoken, an All-American kid… He was a great football player and was a great kid who loved his teammates," Perkins' former football coach Jeff Mueller said.
During his senior year, Perkins was in charge of conditioning the JV football team. Before undergoing chemotherapy, Perkins promised himself that he would play on MVHS's football team as a senior, and he fulfilled this promise, playing in the last three football games of the year.
"It was a really big deal when he got out [on the field to play], and he got standing ovations," Mueller said.
Perkins is survived by his parents Donna and Albert Perkins, sisters Meagan Perkins and Darcy Mathewson, grandparents Ruth and Albert Perkins, Jill and Patrick O'Neill, and his relatives. When he passed away, he was surrounded by his father, mother, and two sisters while friends and relatives waited outside the hospital room, sharing their love and support.
"[Coaching him] was a joy; you only had to tell him to do something, and he would do it with all the enthusiasm that he could," Mueller said. "And the best thing was that you only had to tell him once."
The Perkins family would like to thank football coach Jeff Mueller and principal April Scott for their support for Perkins during his stay at MVHS.
Perkins' memorial, named Justin's Life, was held on Nov. 4 at 5 p.m. at Spangler Mortuary, 399 S. San Antonio Road in Los Altos. Mass will be held at 1 p.m. at Saint Joseph's Church at 10110 N. De Anza Blvd. in Cupertino on Nov. 5. Instead of flowers, the Perkins family is requesting that donations be made to Make-A-Wish Foundation or the J.W. House, an organization that provides affordable housing options as well as housing near hospital grounds to families who have family members undergoing long-term treatment.