Living life in the bike lane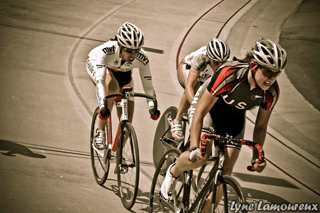 Former runner finds her place in the ranks of professional cyclists.
Junior Christina Ygelsias had no idea she would one day be training for the Olympics. But, as a child she was already unintentionally planning for her future. Yglesias had a habit of saving her money for no reason, and she never knew that she would use her childhood savings to fund her biking career.
As a competitive biker, Yglesias pays for the bikes she rides. Granted, she ends up with old models that have slight scratches in them.
"My road bike is actually the paint shop tester," Yglesias said. "They use leftover bikes when they want to see what the paint job is going to look like. So it says it's made out of carbon fiber, when really it's not."
Just as Yglesias didn't have plans for her savings, she never planned on becoming a competitive biker either. After suffering an injury as a runner, her decision to become a biker was influenced by her father. As a competitive biker, he always insisted that his daughter take up biking too.
"My dad's friend, who owns Cupertino Bike Shop, [said that I] should try some races," Yglesias said. "I won my first race and that was pretty much it."
Since she started biking, Yglesias has found a community. She met one of her best friends, senior Eddie Zhang from Saratoga, on an early morning bike ride.
"With biking you basically have this really big network," Zhang said of the friends that he's made, "and it's really helpful to have this group."
Since Yglesias's first race last August, it wasn't until this February when she decided to take up biking as a sport. Starting at the lowest level for female competitive bikers, at category four, she has moved up one category since last season. She has three more upgrades until she reaches the top tier.
Now taking her biking seriously, Yglesias hopes to reach category two by next season. She has also hired a coach, Shelly Olds, a fellow teammate of hers on her biking team, Pro-Man. Named after their German sponsor, Pro-Man is an internationally accredited team that Yglesias never imagined she would start biking for.
"I pretty much thought I had zero chance of getting on this team," Yglesias said. "I thought they would laugh at my application."
Except, at a race one day, she ended up competing against the Pro-Man team manager, and she won. Elated from her win, Yglesias decided to hand in her application and five minutes later she was accepted.
Yglesias hopes to one day travel with her team to Pennsylvania, Italy, France, Holland, and eventually the Olympics.
Though she doesn't imagine herself at the Games for another eight years, she still draws inspiration from her coach, Shelly Olds.
"We have pretty similar attributes," Olds said of Yglesias. "She is feisty, and she's an aggressive rider. She goes out and she races hard."
And, just as Yglesias hopes to one day, Olds is working towards competing in the next Olympic Games.
Yglesias hopes to continue biking after high school by joining biking teams at the college level. She has already been unofficially approached by Berkeley, and her coach, Shelly Olds, is the co-coach of the Stanford women's biking team.
"There were a lot of sacrifices that came with [biking]," Yglesias said, "but once I made a lot of friends in cycling it didn't feel like a sacrifice."