Flying high: A cheerleader's life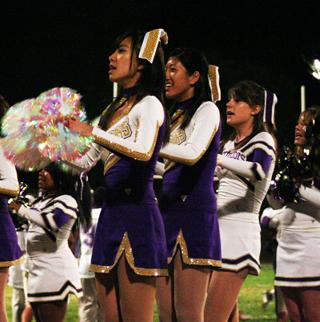 Cheerleaders continue strenuous stunts
Being on a sports team means trusting teammates, whether it is completing a pass, scoring a touchdown, or catching team members after they are hurled into the air. While all sports run the risk of injury, cheer performs the most heart-skipping stunts, pulling off flips in midair several times throughout a single routine. Lack of coordination and a single slip, and the fliers can plunge towards the floor.
"It's scary at first, but we have a really strong base, so we trust them," varsity cheerleader senior Breanna Adams said.
According to senior Jessica Hsu, the fliers, or the teammates who are thrown into the air, are chosen by coach Britanny Morales. They are picked based on how strong and flexible they are compared their teammates.
Out of the nationally certified cheer stunts, basket tosses are the hardest and the most dangerous. However, none of them are considered dangerous by the team.
"Our fliers have to be really flexible and we know we can't let them touch the ground," varsity cheerleader senior Jessica Hsu said. "Personally, I don't get that nervous."
Other stunts performed by cheer include extensions and cradles, both of which include cheerleaders being hoisted into the air. To prepare for these maneuvers, cheerleaders go through a series of conditioning activities, just like members of any other sports team.
"If you can hit the stunts at home, practicing, then you'll be fine at the competitions," Hsu said.