History textbooks and ballet slippers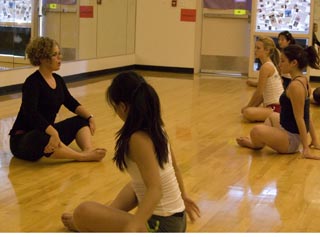 Social studies teacher Hilary Maxwell eases into role as new Marquesas dance coach
Hilary Maxwell isn't a freshman, but she often feels as clueless as one.
The new head coach of the Marquesas admitted that she is still having some difficulty catching up with the team.  Maxwell is a first year coach on a team that has members who have been on it for as many as three.
"There are a lot of traditions on this team that I still don't understand," Maxwell said.
That is not to say, however, that she isn't finding her place.  Co-captain and three-year member of the team senior Neesha Tambe noted that out of the three coaches that the team has gone through in the last three years, Maxwell has been the quickest to catch on.
"Hilary [Maxwell] is great,"  Tambe said. "She has fit right in."
A main reason for why it was so easy for Maxwell to ease into her role here is because she was already fairly well acquainted with the girls.  From November of last season, Maxwell served alongside Leslie Blumenthal as assistant coach of the team.
"It was a really smooth transition," sophomore Kelly Woodruff said.  "Having had her as an assistant coach last year helped."
That is not to say Maxwell didn't have her anxieties about taking the head coaching role.  The team, which has won three national championships since the year 2000, holds itself to a very high standard that Maxwell is more than well aware of.
"My goal for this year is to continue the team's success," Maxwell said. "But I want to maintain the girls' fun at the same time."
If taking the head coaching role wasn't enough, Maxwell really made herself part of MVHS this year by joining the social studies department.  After teaching a semester at Hyde Middle School and then another semester at Kennedy Middle School last year, Maxwell decided to make the move to MVHS.  She noted that having her work and her dance team in the same place is a much welcomed change from last year.
"It's so great to be updated with what's going on with the school,"  Maxwell said. Despite the minor confusions here and there, Maxwell is glad with her transition into her new roles.  With the aid of her dance team Maxwell is more than satisfied with the position she is in for the rest of this year.
"It's so nice to join a team and school that are already so successful,"  Maxwell said.  "Now all I have to do is find my place."